Minister Leighton Andrews Joins Musicians to Lay Foundation Stone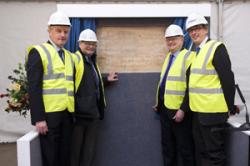 L-R: Prof John G Hughes (Vice-Chancellor); Lord Elis-Thomas (Chancellor of Bangor University); Leighton Andrews AM (Minister for Education and Skills, Welsh Government) and Chris Webster (Chief Executive of Miller Construction).The foundation stone for Bangor's new arts and innovation centre will be laid today (Friday) by Leighton Andrews AM in a creative and musical ceremony.

The Minister for Education and Skills will be joined by pupils from Ysgol Tryfan's jazz and brass band and soloists Rhys Meirion and Huw Ynyr for a unique performance in hard hats on the building site.

The £44m Centre being delivered by Miller Construction will offer state-of-the-art facilities to meet the needs of local communities and businesses. It will host a range of innovative cultural, artistic and community activities designed to promote collaboration, discovery and learning, making a unique contribution to the regeneration of Bangor and to improving skills.

It will receive £27.5m of capital funding from the Welsh Government and European Regional Development Fund, as well as funding from the Arts Council of Wales and from the University itself. It will provide a theatre, studio theatre, cinema, design and innovation studio, teaching and learning facilities and a new Students' Union as well as associated bar, café and public spaces.

Bangor University Vice-Chancellor, Professor John G Hughes said: "This is going to be a focal point for the local community and the University alike – a place to meet, learn and be entertained as well as a home for innovative research, design and learning. It will be a unique place with the potential to transform Bangor."

Leighton Andrews said: "I am delighted to play a role in the inauguration of this major new development, and to lay the Foundation Stone of what will undoubtedly become an iconic building.

"I am always pleased to highlight and celebrate Welsh success, and I am confident that this significant development – which the Welsh Government has supported – will provide a major boost to the arts and to innovation not just within the University, or in Bangor, but in the region more generally.

As a former student of this university, it is exciting to see the developments that have taken place over the last three decades."

Pontio's artistic director Elen ap Robert said:

"We want to spark people's imagination today on the building site by giving a flavour of things to come. The centre will be home for all sorts of creativity, from drama and cabaret to aerial theatre and classical concerts.

"Today's inspirational musicians will all perform in hard hats and showcase the best of home-grown Welsh and international music.

"To coincide with the event, some of Bangor schoolchildren's 'Seeds of Ideas' will be visible on the hoardings to the front of the site. These ideas, expressed by young people from all of Bangor's 11 schools, boldly reflect their aspirations for the new centre".
Publication date: 10 January 2013