Mohawk visitors share experience of indigenous language revitalisation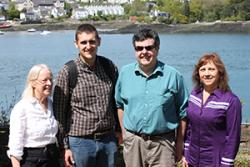 Dr Jean Ware, of the School of Education, with Nathan Brinklow, PhD student Siôn Aled Owen and Callie Hill.Two visitors from the Mohawk Tribe from Ontario, Canada, visited Bangor University recently to learn about the University's research in the field of minority languages and to share their own experiences. The researchers and teachers had several visits with key people at the University and in the region.
Callie Hill and Nathan Brinklow of the Mohawk people based in Tyendinaga, Ontario, Canada, presented a seminar based on Callie's Master's thesis work on revitalizing language in a community that doesn't (necessarily) see its importance.
They explored and discussed the importance of language education within cultural identity from the perspective of a community that "lost" its language, i.e., that has no first language speakers left at the time when children are beginning to learn the language. The Seminar was attended by academics and students from several disciplines including education, psychology and sociology.
Postgraduate student Sion Aled Owen, who is researching minority language education and extending minority language use beyond the confines of the school, has visited several conferences in the course of his research and made contact with the Mohawk visitors.
He said: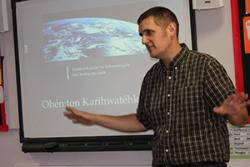 Nathan Brinklow opened the meeting with a traditional Mohawk thanks."We have a great deal to share from our experiences in Wales and much to learn from initiatives in first nation communities in Canada and elsewhere. I'm pleased that this visit is taking place as this is a rare opportunity to hear directly from indigenous American educators."
Dr Jean Ware, head of research at the School of Education commented: "We have a great deal of interest in bilingual education at the School of Education and look not only at Wales but at situations in other contexts from Canada to China."
Speaking in advance of the Seminar at the School of Education, Callie Hill, Chief Executive of the Tsi Tyonnheht Onkwawenna Culture and Language Centre commented: "You have much to celebrate here in Wales with the position of your language, and we have been keen to come over to learn and share our experiences for a number of years. We have had to begin from a base where we have lost our mother-tongue speakers, but after ten years are now in a position where we have families bringing their children up to speak our language as first-language speakers. "
Publication date: 15 May 2015