More exciting developments for the year ahead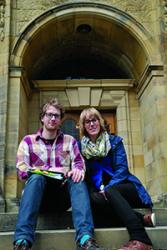 Bangor University had an outstanding year in 2013, and it looks forward to more exciting developments in the year to come.
Last year saw continued investment in the University's infrastructure in order to provide the very best study and social environment for the University's students.
The £46m Pontio building is rapidly nearing completion and will be open by Autumn 2014. This will be a fantastic facility for the community, students, and staff alike. It will bring the University's academics together with business and will be an inspiration for innovation and creativity. In addition to hosting first-class lecture rooms and social learning spaces it will have artistic venues including a theatre and cinema as well as facilities to showcase our research.
Internationally renowned opera star Bryn Terfel expressed strong interest and support for Pontio and Pontio's theatre will be named after him. He visited the site to see the development again last week.
During the year, the Vice-Chancellor, Professor John G. Hughes opened the newly refurbished Neuadd Garth. At a cost of £4.5m, the hall will be aimed mainly at Postgraduate students. It includes two common rooms, a meeting room, an open air terrace with seats and tables, a computer room, and wi-fi throughout. The University is also looking to develop a new Student Residential site on the former St Mary's site in Bangor.
Leisure facilities are important to students, staff and the local community and the University is investing heavily in its sports facilities.
A new all-weather inflatable 'Dome' has already replaced old outdoor tennis courts on the Ffriddoedd site. This will provide year-round tennis and netball space for staff and student clubs. Refurbishment of the University Sports Centre is also under way. When completed in 2014, it will have a new two-storey gym space, brand new and redesigned changing rooms, a new aerobics studio and a new floor to the main sports hall.
Just before Christmas, the go-ahead was announced for a 3G artificial training pitch at Bangor City Football Club which will extend community facilities at the ground. The University is pleased to be a partner in this development and will be committing £150,000 towards this exciting project.
Bangor University continues to play an important part in the region's economic wellbeing. A major enhancement of this role will be delivered through the Welsh Government's investment of £10m in a new Science Park to be managed by the University.
The Park will build upon the existing strengths of Bangor University in a number of research areas, including energy, the environment, clean technology, engineering and electronics. There is great potential for this region to expand its expertise in these fields and to produce jobs with much higher salary levels than the current average for Wales.
By having the latest state of the art buildings and facilities, the University aims to attract some of the best researchers, SMEs with potential for growth and large corporates to bring some of their R&D capacity to north west Wales.
All these developments illustrate that Bangor is investing heavily in its future, and also in the region's future.
For more news from the University, read the Annual Review online here.
Publication date: 14 January 2014