Mr Gwilym Owen appointed as Under Sheriff of Gwynedd
Mr Gwilym Owen, Lecturer in Law, has been appointed as the next Under Sheriff of Gwynedd – a role in which he will serve as a vital link between the new county High Sheriff and the Judges' clerks.
The offices of the Sheriff and Under Sheriff have existed for over 1,000 years in England and almost 1,000 years in Wales. While they traditionally played a significant role in the judicial system in Wales, the positions are largely ceremonial nowadays.
The role of Under Sheriff is usually designated to a senior solicitor who has practised in a particular county for several years. With thirty years' experience in private practice before entering academia, this appointment reflects the esteem in which Mr Owen is held by the local profession.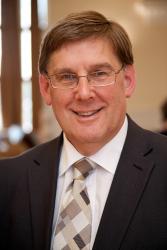 Mr Gwilym Owen
He will serve under the new High Sheriff, Professor Sian Hope OBE, Director of Strategic Initiatives and Professor of Computer Science at Bangor University, and organise and attend dinners in honour of any High Court Judges who visit the county.
Both Professor Hope and Mr Owen were formally inducted into their roles at a ceremony in Pontio on Saturday, 1st April. The ceremony was attended by various dignitaries, including the outgoing High Sheriff, Dr Peter Harlech Jones; the Lord Lieutenant of Gwynedd, Mr Edmund Seymour Bailey; and Lord Dafydd Ellis Thomas, Chancellor of Bangor University.
Upon being asked about his appointment, Mr Owen said: "I am very honoured and pleased to have been asked by Professor Hope to act as Under Sheriff of Gwynedd. This will be a fantastic opportunity for the Law School to forge even closer links with the legal profession and the judiciary for the benefit of students, by creating further opportunities for them to gain work experience and to shadow senior judges".
One of Mr Owen's academic interests lies in the field of legal history, particularly that of Wales. In this context, he commented: "The shrievalty of Gwynedd comprises the old counties of Anglesey, Caernarfon and Meirionnydd. What is generally not well known is that under the first of the Tudor Acts of Union in 1536, there was a saving provision to the effect that the native Welsh customs of Wales were allowed to continue in these three counties.
"My research into settlement patterns in Wales has also revealed that some wills made by landowners in this shrievalty following the Tudor Acts of Union 1536-43 show a tendency to mimic some of the native Welsh laws of partible inheritance, cyfran".
Mr Owen's findings in respect of these settlement patterns are analysed in an article to be published in the Irish Jurist in November 2017. He is also nearing completion of a volume for the Welsh Legal History Society detailing the litigation which took place within the Griffith family of Penrhyn concerning the Penrhyn entail during the sixteenth century. It is anticipated that the book will be published in the autumn of 2017.
Publication date: 9 May 2017