Music Student Scoops Composer's Medal at Urdd Eisteddfod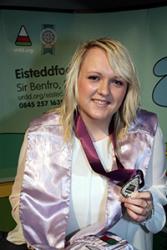 Lois Eifion JonesMusic School postgraduate student Lois Eifion Jones, from Penisarwaun, near Carenarfon, is to be congratulated on winning the Composer's Medal at the Urdd Eisteddfod.
Lois, under the name of Branwen, won the medal with her 'theatrical' choral piece for readers, soloists, choir and orchestra. Her winning composition is based on a poem about the legend of Branwen written by Cen Williams. She also came second in the same competition!
Lois Eifion has just completed an MA degree in Music, focussing on composition and will graduate this summer. She also won the solo folk song and instrumental solo at last year's Urdd Eisteddfod. This entitled her to compete for the Bryn Terfel Scholarship, for which she was a runner up. This year's Eisteddfod is not yet over for Lois, however. She competes in four competitions on Saturday, all of which could see her take part in the Bryn Terfel Scholarship Competition again this year.
Having originally come to the School of Music to focus on performance, Lois has been gradually drawn to composition. Her Postgraduate tutor, lecturer in composition, Dr Owain Llwyd said: "Here at the School of Music we are very proud of Lois' achievements throughout her time with us as a student, and of course, this award is yet another for her to add to her ever-growing cabinet! A multi-talented musician, Lois has excelled at composition in many genres, from music for film and media through large scale orchestral and choral works. Warmest congratulations to her for winning such a high profile award."
Lois said: "My family have been a great influence on me, and I would like to thank the staff at the Music Department at Bangor University for their support, encouragement and inspiration."
Adjudicator Euros Rhys Evans said: "The dramatic element of the Branwen legend is portrayed in the music, which has a number of contrasting parts.
"Some parts are particularly impressive, especially when Branwen sings 'Awen Erin'. Here we have an artistic and effective masterpiece."
Publication date: 30 May 2013