My Friend Dylan Thomas
In collaboration with Pontio, the School of Music is proud to host My Friend Dylan Thomas, a festival celebrating musical responses to the work of one of Wales's greatest writers. The festival, which will bring internationally-renowned musicians to Bangor, takes place from Saturday 25 to Thursday 30 October. Tickets are available now from the Pontio website: tickets.pontio.co.uk.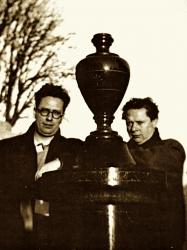 Daniel JonesDylan Thomas's bridge to the world of music was his lifelong friend and collaborator Daniel Jones (pictured), composer of the original music in Under Milk Wood and author of the witty and affectionate memoir My Friend Dylan Thomas. The festival features four works by Daniel Jones, including his monumental Fourth Symphony in memory of Dylan Thomas, and the world premiere of two vocal works written collaboratively by Jones and Thomas when they were still Swansea schoolboys.
Their close relationship between Jones and Thomas is also celebrated in an exhibition of unique manuscripts and artefacts, presented in collaboration with Bangor University Archives and the National Library of Wales. The exhibition will be located outside the Council Chamber of the University's Main Building, and can be viewed free of charge during the usual opening hours of the University for the duration of the festival.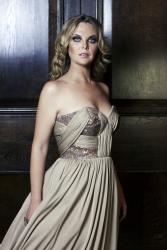 Elin Manahan ThomasThe season will also present several new commissions, including Dylan Thomas-themed works by John Rea, Guto Pryderi Puw, and Andrew Lewis, alongside works by Elgar, Poulenc, Elisabeth Lutyens, William Mathias and others. Performers include world-famous soprano Elin Manahan Thomas (pictured), jazz pianist Huw Warren, cellist Thomas Carroll, the Bangor University Singers, and the BBC National Orchestra of Wales. The festival also includes a one-man theatrical performance by Rhodri Miles: Clown in the Moon.
'We're very pleased to have the opportunity to showcase the music of Daniel Jones, which deserves wider recognition,' said Dr Chris Collins, Head of the School of Music and one of the conductors of the University Singers. 'Moreover, it's only right that Bangor, as the home of the world's leading scholarship on Welsh music, should be the location for this celebration of Wales's most internationally-renowned writer.'
The festival forms part of Dylan Thomas 100, an international festival celebrating the centenary of the poet's birth, funded by the Welsh Government and the Arts Council of Wales.
Publication date: 24 October 2014