National Award for Nesta
A Bangor University PhD student recently won a national award at the Chief Nursing Officer for Wales Annual Conference in Cardiff.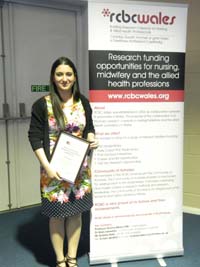 Nesta Roberts, 25, from Criccieth, won the annual Alun Islwyn Giles memorial nursing scholarship. The award was given towards her doctorate study and is for Royal College of Nursing members in Wales, to promote the advancement of the art and science within nursing.
Nesta's research study is to develop 'Connecting Care Plans' which are aimed at improving the care and discharge of people with dementia from acute hospital care to care homes. This will aim to better communicate dementia patient's needs as well as strengthen the partnership between people with dementia, their families, care homes and acute hospital professionals at a local, organisational and strategic level.
Nesta is also currently working for the Betsi Cadwalader University Health Board as a Continuing Health Care Nurse Reviewer and Quality Monitoring Project Lead.
Nesta explains: "I was honoured to win this prestigious award and need to thank Bangor University for all the support especially my supervisor Dr. Sion Williams. It truly is encouraging as an early career fellow that research is really commended in nursing and I hope it inspires other newly qualified nurses to follow a path in research. I hope that the research will be able to provide significant contributions to the field and make a difference for people suffering from dementia."

Publication date: 13 June 2013