National Procurement Awards 2016: Gwynedd Council wins award for Community Benefits
The Welsh National Procurement Awards 2016, held at Bangor University Law School's Institute for Competition & Procurement Studies recently, saw Gwynedd Council awarded the National Award for Community Benefits.
Gwynedd's Strategic Housing Policy Unit received the honour in recognition of its implementation of the Welsh Government's Community Benefits Policy in its high-value construction projects in North Wales.
The judging panel recognised the efforts of Gwynedd Council to use social clauses in its high-value construction projects, as being a successful mechanism for achieving added value, and gaining community benefits for the people of Gwynedd. In a pioneering effort to replicate this approach across other service areas of Gwynedd Council, the Council's Strategic Housing Policy Unit successfully completed a capital bid to improve the energy efficiency of Council properties, and also tackle fuel poverty via the Cartrefi Clyd Warm Homes Scheme. In doing so, Gwynedd's Housing Unit have added value, through community benefits, in one of Gwynedd's most deprived areas – Peblig Ward in Caernarfon. This ward is positioned within the 6% most deprived areas in Wales.
The Council specified the use of social clauses as a primary requirement, and this requirement in the tender enabled the Council to achieve an array of benefits which were delivered by the contract winner, Wilmott Dickson Energy Services. For example, some of the benefits included ensuring that unemployed persons were trained as apprentices, and that when the project ended, that they were given key training and qualifications to allow them to be work-ready, so that they had a high employability attractiveness rating when they went to seek new employment. The project has successfully ensured a very positive outcome, and all of the apprentices are now in full-time employment.
In their feedback, the Welsh National Procurement Award judges commented:
"This submission demonstrates that the first key to success is starting with core values. This approach has allowed Gwynedd Council's goals to be embedded throughout the procurement system. The focus on culture as the driving force is very refreshing to see. Making the people – the tenants, their communities, and the staff that will deliver the results – the priority, rather than just focusing on the tools to be applied, is an approach that should be adopted everywhere."
Welcoming Gwynedd Council's success in winning the national award for implementation of Community Benefits in their procurement processes, Professor Dermot Cahill, Head of Bangor Law School and Chair of Judges at the Awards, observed:
"Community Benefits is an example of a Welsh Government procurement policy that has now been widely adopted by the Welsh public sector for the benefit of both the businesses of Wales and the people of Wales. It is an example of a very well thought out policy, which, over a period of years, has now been adopted in widespread use in public sector tenders across many areas of the Welsh public sector. It is designed to ensure that, even after a public contract has been delivered, there are often legacy benefits that remain embedded in communities in order to promote employability and social cohesion. Gwynedd Council is to be congratulated for its success."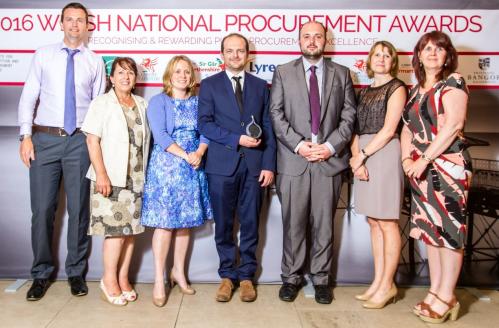 L-R: Gwynedd Council's Arwel Evans, Sandra Karlin, Emma Davies, Dave Sinclair, Rhodri Owen, Elliw Llyr, Ruth Jones.
Publication date: 29 June 2016