National Procurement Awards 2016: Rhondda Cynon Taff Council wins award for electronic procurement
The Welsh National Procurement Awards 2016, held at Bangor University by Bangor Law School's Institute for Competition & Procurement Studies, recently saw RCT Homes awarded the Award for Electronic Procurement.
RCT Homes Ltd was established in 2007 as a community mutual housing association to receive the transfer of the social housing owned by Rhondda Cynon Taff County Borough Council. One of the largest housing associations in Wales, with a stock made up of over 10,000 rented homes (including 740 sheltered housing schemes), RCT were given this award for its progress in running e-auctions as a means of disposing of RCT homes' unused properties. What was particularly significant was the very positive feedback received from bidders, who found engaging with the electronic auction scheme to be user-friendly, as well as the cost effectiveness of this method of selling, compared to using a conventional auction house. The project required a cross-functional team as well as liaison with external partners, and involved the RCT procurement team, an asset management team, local estate agent, a leaseholder team and the e-tender Wales platform hosted by Bravo Solutions to actually run the e-auction.
The judges were particularly impressed by the level of innovation which the use of the e-auction brought to this project, and applauded the use of e-procurement in this new setting. The judges were impressed, in particular, by the "thinking outside the box" dimensions of the project, and said that it pointed the way towards widespread use of e-auctions and e-procurement in the Welsh public sector.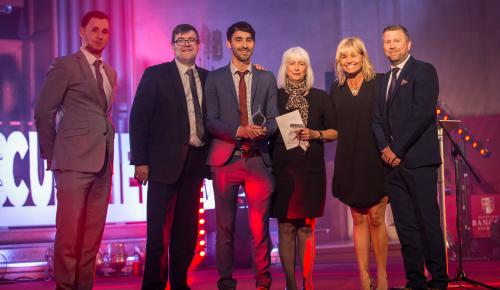 Receiving the award on behalf of RCT Homes, with Nia Parry, S4C TV presenter: Daniel Keenan, Andrew Bradley, Robin Roberts, Liz Aitken, (Nia Parry), and Wayne Hughes
Publication date: 7 July 2016