New Coleg Cymraeg Cenedlaethol Student Ambassadors appointed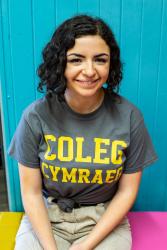 Tegwen Bruce-DeansThe Coleg Cymraeg Cenedlaethol has recruited ambassadors at Bangor University, with the aim of encouraging more prospective students to study part of their degree courses through Welsh.
They are among 23 ambassadors at six universities across Wales. Tegwen Bruce-Deans and Aled Siôn Storey Pritchard, at the School of Welsh & Celtic Studies, and Katy Williams and Briall Gwilym, at the School of Health Sciences will start their work this month and be responsible for completing various tasks throughout the year, with Elan Duggan also returning for another year.
Their main role as ambassadors will be to persuade school pupils and further education colleges to follow part of their studies through the medium of Welsh and champion the advantages this brings.
They will represent the Coleg Cymraeg at school visits, UCAS fairs and Eisteddfodau as well as record their experiences in an online blog and on various social media platforms.
For the first time this year, the prospective ambassadors were required to put forward a minute-long video as well as an application form.
Speaking on behalf of the Coleg Cymraeg Cenedlaethol, Elin Williams said: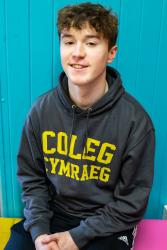 "We're extremely excited to be able to announce the appointmewn of 23 new ambassadors from the higher education sector for 2020. Having a group of young and enthusiastic people working with us to promote Welsh medium study opportunities is a huge help in terms of projecting a positive image of the importance of studying through the medium of Welsh.
"There is a wide range of subjects available through the medium of Welsh in our universities by now and it will be the ambassadors' role to explain the advantages of studying through the medium of Welsh."
Dr Llion Jones, Director of Bangor University's Canolfan Bedwyr commented:
"In addition to providing an excellent all round University experience for our students, we pride ourselves in in providing more opportunities to study through the Welsh language than any other institution. The five new Ambassadors are part of a vibrant and active Welsh-speaking community, whithin Bangor Univerosty, and that provides a strong foundation for studying through Welsh."
You can follow our ambassadors' University adventures on the Coleg Cymraeg Cenedlaethol website and on Instagram and Twitter 'Dy Ddyfodol Di' and Facebook, You Tube and Snapchat 'Coleg Cymraeg'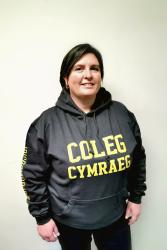 Katy Williams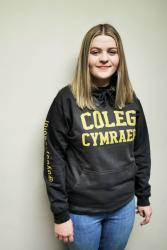 Publication date: 17 February 2020