New Director appointed at Pontio Arts, Bangor University's Arts and Innovation Centre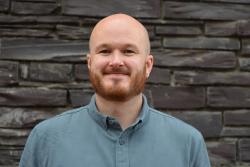 Osian Gwynn joins Bangor University's Pontio from the Welsh Arts Council.Osian Gwynn has been appointed as the new Director of Pontio Arts, part of Bangor University's Arts and Innovation Centre, which opened in 2015.
Orginally from Llanelli, Osian Gwynn attended ysgol Gymraeg Dewi Sant and Ysgol Gyfun y Strade then studied International Politics and Film and Television Studies at Aberystwyth University. He worked at Cambrensis Communications in Cardiff before studying a Masters Degree in Voice Performance at the Guildhall School of Music and Drama in London. He subsequently worked as a solo artist and as a member of the chorus in the world of opera for companies such as Opera Holland Park and Grange Park Opera and toured with productions throughout the UK and Europe.
For the last five years, Osian Gwynn has been Lead Officer at the Arts Council of Wales for organisations such as Welsh National Opera, Aberystwyth Arts Centre, Cwmni Theatr Arad Goch, Torch Theatre, Music Theatre Wales a Chanolfan Celfyddydau Pontardawe. Osian is passionate about the arts and particularly the performing arts and enjoys all kinds of live productions and cinema.
He said, "It's such an honour to be appointed to lead an organisation such as Pontio and be given this opportunity to work in such a landmark building.
"It's difficult to think of a better area to work in in terms of the richness of its culture and the standard of its artistic communtiy, and I look forward to listening to the people of Bangor and the area, as well as Bangor University's staff and students, to write the next chapter in Pontio's history.
"I'm keen to build on the exceptional achievements of Elen ap Robert and the Pontio team so far, and create a new varied programme of events which will attract audiences from far and wide to enjoy arts and culture in the city of Bangor.
"In politically tumultuous times, I'm truly convinced that the arts have a major role to play in terms of giving us opportunities to unite, to express ourselves and of course, to enjoy!"
Osian Gwynn will commence in post at the beginning of October.
Publication date: 17 September 2019