New Moot Court opened by Lord Chief Justice at Bangor University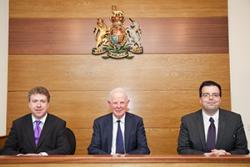 Dermot Cahill (Head of the School of Law), Lord Chief Justice, Stephen Clear (School of Law)A state-of-the-art Moot Court facility was officially opened at Bangor University by the Lord Chief Justice of England and Wales, Lord Thomas of Cwmgiedd, on Thursday 9th October, which is set to further underpin Bangor's position as a leading example of a UK university Law School that places employability and student skills development at the core of its LLB Law Degree curriculum.
Speaking at the formal opening ceremony, Lord Thomas praised the achievements of Bangor Law School in the ten years since it was first established in 2004. He stressed the critical importance of students gaining advocacy and mooting skills as a way of preparing for a career in the legal profession, and was highly complementary of the successes achieved by Bangor students in recent national and international advocacy and mooting competitions.
Mooting is already a major activity at Bangor, with the Law School having hosted eight internal competitions and competed in five external contests in 2014 alone. One of those external competitions was the LexisNexis Welsh National Mooting Competition, in which Bangor beat teams from the University of South Wales, the Open University, and Swansea, Cardiff and Aberystwyth Universities to clinch first prize earlier this year. The University has also established a name for itself on the European mooting scene, having become the first Welsh law school ever to qualify for the Telders International Moot Court competition in 2013 – where they were the best performing British team – and returning in 2014, where they bettered their performance. The School is hoping it will be third time lucky when it returns to the Telders contest in 2015, and this dedicated new facility is sure to prove invaluable to the team's preparations.
"In recent years, Bangor Law School has more than demonstrated its competency in mooting", said Professor Dermot Cahill, Head of Bangor Law School. This significant investment by the University will enhance law student employability, bring more external competitions to Bangor, and improve the quality of the teaching resources on the undergraduate Legal Skills and Mooting modules, which are taught through both English and Welsh."
Professor John G. Hughes, Vice-Chancellor of Bangor University, also welcomed the formal opening of the new moot courtroom. "Bangor University is committed to upgrading our facilities to ensure that all our students have access to the best facilities. I am particularly pleased that the Lord Chief Justice of England and Wales, Lord Thomas, has taken time from his very busy schedule to open our new moot courtroom. This reflects the growing national and international stature of the Law School at Bangor University, and comes on the back of very impressive results in the National Student Survey, in which Bangor Law School was ranked No. 1 in Wales and No 11 in the United Kingdom."
Publication date: 22 October 2014