New NHS funded course recruits local Health Workers
A group of Health Care Support Workers have now commenced an innovative part time nursing degree at Bangor University.
This initiative, commissioned by Welsh Government supports existing health care support workers to advance their careers to become registered nurses.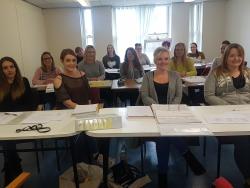 Betsi Cadwaladr University Health Board and Bangor University has collaboratively developed a bespoke programme for this unique group of talented, experienced Health Care Support Workers to further their education and achieve their goals to become nurses.
Students on the programme are supported by BCUHB and will undertake their studies on a part time basis, whilst working in their usual roles for part of their working week.
It is anticipated that the programme will be extended further over the next year to enable more health care support workers to become nurses. Applications are now open for the next cohort of Adult and mental Health field students, due to commence in spring 2019.
Head of School Chris Burton said "This is another example of our close partnership with BCUHB having a real impact not only on the career opportunities for these students but also on providing a local workforce for BCUHB that is making a real difference to healthcare in North Wales. The Train Work Live initiative is making real progress in addressing the number of clinical vacancies in BCUHB and we are delighted to be playing a part in it."
One student that has started the course this year said, "I really enjoy being a student. I have had a lot of support from my tutor and all staff that I have met so far."
Another student commented, "It's a great opportunity to further my career as a Registered Nurse. Without the programme I could've never afforded to do it."
Angela Johnson, Workforce Modernisation Manager BCUHB explained "This new programme will help give our employees the opportunity to upskill and improve their career opportunities and play an important role in addressing BCUHB Nursing vacancies by providing highly trained new nursing graduate from local communities, we are so pleased we have this programme in place''
For more information about the course please contact Gill Truscott: g.truscott@bangor.ac.uk
Related documents:
Publication date: 25 May 2018