New perspectives on Wales at North American Association for the Study of Welsh Culture and History Conference
I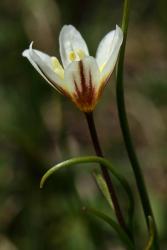 Prof Huw Pryce presents a keynote Lecture on Edward Lluyd, renowned naturalist who discovered the Snowdon Lily: Lloydia serotina (Snowdon Lily) detail Credit Hugh Knott CC BY-ND 2.0nternational academics and students of Welsh history converge on Bangor University this week (25th to the 27th of July), as the University hosts the 12th biennial North American Association for the Study of Welsh Culture and History (NAASWCH) Conference of 2018.
From Popular Culture to Politics, Landscape to Literature, War, Media and Music, this three-day conference covers a stimulatingly diverse array of topics on Welsh Culture, Literature and History. The Conference also includes studies on Welsh-American culture, and explores issues facing Contemporary Wales.
The Seventeenth Century naturalist and scholar Edward Lhuyd may be best known for his discovery 'Snowdon Lily' or as the 'father' of Celtic studies', but in his keynote lecture Huw Pryce, Professor of Welsh History at Bangor University, argues that Lhuyd's foundational understanding of Welsh history was quite characteristic of his age. By cooperating with antiquarians in Wales, Professor Pryce argues that Lhuyd also sheds unique light on the historical culture of his peers – including the 'legends' and 'traditions' of the people.
Also among a packed and varied Conference agenda is an intriguing panel on Landscaping the Welsh past, discussing how the landscape can be used as a historical source.
Bangor University postgraduate student Leona Holland will be reviewing the site of a disused Whisky distillery in Bala, Fron Goch, which was later used as a World War One prisoner of war camp and then camp for Irish internees amassed after the 1916 Easter Rising.
Under the same topic, archaeologists Gary Robinson and historian, Mari Wiliam and undergraduate student Owen Hurcum of Bangor University discuss how traces of the past which remain in the landscape, such as graffiti have been overlooked.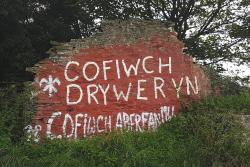 Cofiwch Dryweryn - Remember Tryweryn graffiti on a wall on the A487 near Llanrhystud, Aberystwyth. Originally painted in the 1960s it has been repainted and altered several times since. : Wiki Images image by Dafydd Tomos CC BY-SA 4.0Mari Wiliam explains:
"There is a vivid cultural memory in society about controversies in twentieth-century Wales, such as the 'drowning' of the Tryweryn valley in 1965 or the Investiture of Charles as Prince of Wales in 1969. These incidents heralded Welsh nationalist protests, most strikingly by more 'militant' groups such as the Free Wales Army, who created a public spectacle by cloaking themselves in uniforms and prominently displaying their 'White Eagle of Snowdon' insignia. Our discussion combines archaeological and historical approaches and complements co-panellist Sean Martin's exploration of the contested landscapes of Tryweryn and Trawsfynydd Nuclear Power Station. We will be looking at how graffiti, commemorative parades and even t-shirts sustain a visual and material trace of Welsh nationalist 'milestones', whilst also perpetuating emotive myths about the modern Welsh past.'
Professor Andrew Edwards, Dean and conference co-organiser commented:
'The NAASWCH conference was last in Bangor in 2012, and I'm pleased to welcome it once more to the University, as it is a wonderful opportunity to learn about cutting-edge multi-disciplinary research into both the Welsh past and contemporary society'
The conference also includes riveting papers from other distinguished keynote speakers Katie Gramich, Professor of English Literature at Cardiff, and Huw Osborne, Associate Professor at the Royal Military College of Canada.
For further details regarding the Conference, please contact conference co-organiser Dr Mari Wiliam:
Publication date: 24 July 2018