New Pro Vice-Chancellor Welsh Medium & Civic Engagement Appointed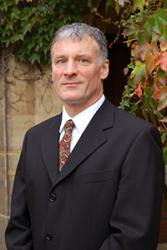 Newly appointed Pro Vice-Chancellor, Professor Jerry Hunter.Professor Jerry Hunter has been appointed to the post of Pro Vice-Chancellor with responsibility for Welsh Medium and Civic Engagement at Bangor University.
Originally from Cincinnati, Ohio, Professor Jerry Hunter graduated from the University of Cincinnati, before progressing to an MPhil degree from Aberystwyth University and a Doctorate from Harvard University, having learned Welsh attending WLPAN courses at Lampeter. He lectured at Harvard and Cardiff Universities before joining Bangor University's School of Welsh in 2003.
He is well-known as a presenter of two television programmes for S4C, which he researched and wrote: 'America Gaeth a'r Cymry', and 'Y Cymry a Rhyfel Catref America', which won a BAFTA Cymru Award, and as the author of factual books including Llwch Cenhedloedd: Y Cymry a Rhyfel Cartref America, which won the Welsh Book of the Year award in 2004, as well as fictional books for adults and children. He also won the Prose Medal at the National Eisteddfod in 2010, becoming the only American to win one of the Eisteddfod's major competitions.
In addition to his new role, Professor Hunter will continue to teach and carry out his academic research. He will continue to Chair the Arts Advisory Board of Pontio, the University's new Arts & Innovation Centre. As Pro Vice-Chancellor, his main role will be to develop and lead the University's strategies for furthering the Welsh language, bilingualism, and Welsh medium study, as well as to develop the University's relationship with external organisations and the community. In this respect, his participation in the Pontio project is particularly relevant.
University Vice-Chancellor, Professor John G. Hughes said: "I am delighted that we have appointed Jerry to this important post. Professor Hunter has a strong commitment to Welsh medium higher education, and the contribution he has made to the Pontio project underlines the importance he places on building links between the University and local and regional communities."
Professor Jerry Hunter said: "I am delighted to be appointed to this post and excited by what lies ahead. I am passionate about the Welsh language and about developing closer links between the University and the local community, and I am really looking forward to this new challenge."
Publication date: 11 October 2013