New route to a nursing career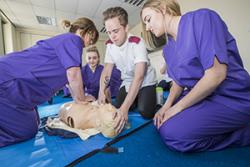 A Postgraduate Diploma programme in Adult Nursing introduced by Bangor University is the first course of its kind in North Wales. It offers recent graduates of life and social science a fast-track two-year route to registration as a Nurse with the Nursing and Midwifery Council.
The new postgraduate course meets a growing need for more nurses. According to recent reports, Stephanie Aiken, Deputy Director of nursing at the Royal College of Nursing said that number of nurses graduating "still won't match up to the number of those leaving."
Providing new routes to becoming a registered nurse is important faced with an aging workforce and the high number of registered nurses retiring from the profession.
Bangor University already has an excellent record of employment for all its nursing graduates. Angela Johnson, Workforce Modernisation Manager at Betsi Cadwaladr University Health Board commented:
"Betsi Cadwaladr University Health Board is currently running their Train, Work, Live –North Wales campaign to support recruitment and this new programme of activity provides another welcome source of potential employees for the North Wales region."
Bangor University is the only provider of commissioned, bursary funded, courses in North Wales with students placed across the Health Board for clinical placements. Unlike England, Wales has retained the provision of NHS bursaries for Bachelor of Nursing courses and this now includes the Postgraduate Diploma Adult Nursing. Successful applicants will have their fees paid and receive a bursary contribution to living expenses while they complete their postgraduate or undergraduate course.
Bangor University's School of Healthcare Sciences has reversed a decline seen in England since the removal of bursary fees and living costs there, with applications last year up 14% overall, a growth that looks set to be maintained for 2018 entry. The continued provision of NHS bursary funded at Bangor is particularly good news for mature students as there is evidence emerging from England that they are being hit harder than school leavers by the removal of funding, the RCN's Dr Aiken said "Many mature students already have caring responsibilities and therefore couldn't afford to fund themselves through university on top of that."
The commissioned number of places for nursing programmes at Bangor University Bangor's have increased substantially over recent years both the University's campus in Wrexham next to the Maelor Hospital and the main campus in Bangor. The School of Healthcare Sciences is still accepting applications for nursing degrees for Mental Health, Learning Disability and Adult nursing for April and September start dates.
There is also a Learning Disability Nursing Open Day at the Wrexham Campus on Saturday 10th February where potential applicants, particularly those interested in starting in April 2018 can come along to meet staff and find out more about Learning Disability nursing and a broader taster day at the Wrexham Campus on Thursday 8th February. More information including online booking is available on the School of Healthcare Sciences Website in the events section.
The continuation of bursaries in Wales, new courses such as the Postgraduate Diploma and the existing degree courses delivered in April and September at both the Bangor and Wrexham campuses play a significant part in educating nurses of the future.
Publication date: 31 January 2018