New sculpture at Bangor University celebrates self-educated scholar
A new sculpture was unveiled at Bangor University recently.
Lord Dafydd Elis-Thomas, Chancellor of Bangor University with Owain Tudur, Bob Owen's, son, who unveiled the bust.The bust commemorates Bob Owen, Croesor (1885-1962), a renowned bookworm, genealogist and historian. He was well-known for the remarkable collection of books and documents he amassed at his small home in Croesor, near Porthmadog, and the many eloquent lectures he gave at various locations around Wales.
The sculpture was commissioned from Welsh sculptor, John Meirion Morris by Cymdeithas Bob Owen, the Society of Welsh book collectors and book-lovers.
Bob Owen was a great friend of the former Librarian Dr Tomas Richards, and spent many an hour discussing books and manuscript collections with him and other leading Bangor academics.
It's therefore most apt that Bangor University should provide a permanent home for the new bust in the Shankland Reading Room at the University's Main Library, which is home to the Welsh Library.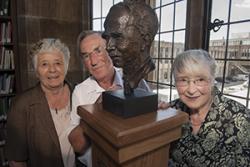 left-right: Nanw Williams, Owain Tudur and Sian Williams, children of Bob Owen, Croesor.Accepting the bust on behalf of the University, Lord Dafydd Ellis Thomas said: "The University is pleased to accept the sculpture of Bob Owen, Croesor from Cymdeithas Bob Owen. It will be placed for all to see in the Shankland reading Room, where he and his friend Dr Thomas Richards spent many an hour discussing historical books and documents. There are several busts in the University, depicting mebers of the Peerage, solicitors and academics, but this is the first bust of a cultured working-man from Meirionnydd to reach the University library."
Though Bob Owen's formal education ended at 13 when he left Llanfrothen Elementary school, he was highly regarded by some of wales' leading academics, and was well known for his lectures and weekly newspaper column.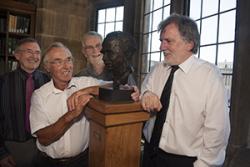 left-right: Mel Williams, Cymdeithas Bob Owen, Owain Tudur, son of Bob Owen, who unveiled the bust, sculptor, John Meirion Morris and University Archivist, Einion Thomas.He worked as a farm hand for three years before joining Park and Croesor Quarry, where he stayed until the effects of the depression cause the quarry's closure in January 1931. After two and a half years unemployed, he was appointed regional organiser for Caernarfonshire for the Workers' Education Association, and was later appointed by them as a lecturer.
Publication date: 24 July 2013