New study shows link between agricultural land grade and river water quality in rural catchments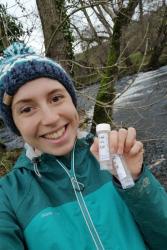 Elizabeth Crooks collecting river water sample. : © Elizabeth Crooks
A new study, conducted by a team of researchers from Bangor University, has shown that water quality in the Conwy and Clwyd rivers in North Wales is strongly related to the grade of agricultural lands in their respective catchment areas.
The research, published in Journal of the American Water Resources Association (https://www.onlinelibrary.wiley.com/doi/full/10.1111/1752-1688.12904), involved bi-weekly collection of stream water samples from five sampling sites over a three-month period (Sep – Nov 2018), which were then analysed in the lab to measure six water quality variables: pH, Electrical Conductivity, phosphorus, nitrate and ammonium concentrations, and bacterial coliform count.
Elizabeth Crooks, the study's lead author and BSc Geography graduate from Bangor University, explains:
"Our goal was to characterise the impacts of both land use and land management on river water quality in Conwy and Clwyd. To this end, we analysed our water quality data using two different, but complementary, land cover classification systems. The Centre for Ecology and Hydrology's Land Cover Map 2015 classifies UK's land into 21 land use classes (e.g., broadleaved woodland, improved grassland, bog, saltmarsh), whereas the predictive Agricultural Land Cover dataset classifies the land into five agricultural grades (Grade 1 being the most productive and Grade 5 being the least). When looked together, these classification systems provide a much richer understanding of how the land impacts river water quality."
The study's results showed strong links between the acidity level of the water and the proportion of Acid Grasslands, which are dominated by grasses and herbs on lime-deficient soils, and between nitrate levels and the proportion of Improved Grasslands, which are dominated by fast growing grasses on fertile neutral soils. Higher proportion of good-quality agricultural land (Grades 1, 2, and 3a) was associated with poorer water quality, specifically, higher levels of nitrate and phosphorus concentrations and bacterial coliform count in the stream water. Conversely, catchments with higher proportion of poor-quality agricultural land (Grades 4 and 5) had lower levels of all the measured water quality indicators, indicating better water quality.
According to Dr Sopan Patil, Lecturer in Catchment Modelling and co-author in the study, agricultural land quality "serves as a good proxy for farming intensity. This is because good quality land can support a wider range of agricultural activities with more intensive land management. The results from our study suggest that the information contained in land use/cover classification maps can be reliably used to estimate the expected water quality in rural catchments. Our water quality data across the Conwy and Clwyd catchments shows that the stream sampling sites in Clwyd, which have a greater proportion of high grade agricultural land draining towards them, had poorer water quality than the Conwy sampling sites in most of the measured water quality indicators."
Elizabeth conducted the field water quality sampling as part of the Honours project research for her BSc Geography degree. Her research was co-supervised by Dr Sopan Patil and Mr Ian Harris in the School of Natural Sciences.
She says: "The chance to complete my own fieldwork in my final year really widened my horizon and helped confirm for me that I wanted a field-based job. It allowed me to push myself and test what is currently known about river water quality in North Wales."
Since graduation, Elizabeth has joined the graduate programme at Thames Water and is now a Field Operations Manager for Waste Networks in the Thames Valley Region. This entails assessing sewage pollutions to watercourses and monitoring the environment around the company's wastewater assets.
Publication date: 1 March 2021