New Website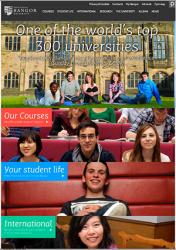 Bangor University has a new-look website.
The refreshed modern look to the site has been designed to be adaptive for use on smartphones, tablets and computers and provides an exciting and interactive experience for visitors.
Professor John G Hughes, Bangor University's Vice Chancellor said:
"Our website is often the first point of call for anyone interested in Bangor University. Indeed, nearly half of our international students quoted our website as the main influence on coming to the University. The new site is bright, colourful and great to use on mobiles and tablets. I'm delighted with the new site and I know that visitors will also be impressed by it."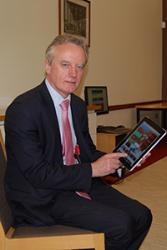 Prof John G Hughes using the new website.With over 60,000 pages in the site, designing and preparing the new site has been a substantial piece of work. Part of the project also involved creating a new section of the website focussed entirely on existing Bangor students. Launched at the beginning of the academic year 'MyBangor' provides an excellent platform for all our students.
Produced by design company Roundhouse, the site features content in a number of languages in addition to both Welsh and English. It can be found at www.bangor.ac.uk
Publication date: 21 January 2014