New Welsh Language Centre for Mold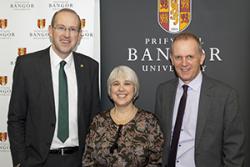 (left-right) at the opening of Tŷ Pendre Newydd: Llŷr Huws Gruffydd AM, Eirian Conlon (Tutor and organiser Bangor University Welsh for Adults in Flintshire) and Ifor Gruffydd, Director North Wales Welsh for Adults.Due to the increase in the number of people who want to learn Welsh in the Flintshire area over the past five years, Welsh for Adults North Wales, Bangor University, have opened a new language centre in Mold today.
Carwyn Jones First Minister of Wales, a great advocate of Welsh language Centres, apologised that he could not be present, and sent his best wishes for the future of the centre. The language centre is called, 'Tŷ Pendre Newydd', and was officially opened by AM for North Wales, Llŷr Hughes Griffiths.
Over the past five years there has been an increase in the number of people learning Welsh in the area. Over 1,000 learners have registered on Welsh courses this year, with Bangor University providing about 40% of those courses. With numbers expected to rise again due to the upcoming national Urdd Eisteddfod visiting the area this summer, Ifor Gruffydd, director of Welsh for Adults North Wales said,
"A modern Language Centre like 'Tŷ Pendre Newydd' is an absolute must."
The new language centre, is situated at the Bromfield Industrial estate in close proximity to the offices of Menter Iaith Flint. The language centre aims to work closely with Menter Iaith and other local societies to promote Welsh medium social events for learners and Welsh speakers in the area. Welsh for Adults North Wales see the integration of learners with Welsh speakers as the key to being successful as a learner and to further strengthen the welsh language within our communities.
Commenting on the language centre's official opening, Ifor Gruffydd, Director of Welsh for Adults North Wales said;
"Bangor University has a 33 year long tradition of teaching Welsh in Flintshire, and we are unique in that we offer courses across all levels, from beginners to fluency. This centre is a corner stone for the future of learning Welsh in the county"

Publication date: 4 December 2015