'No Offence' TV star Joanna Scanlan is coming home to PONTIO to promote her new indie movie 'Pin cushion'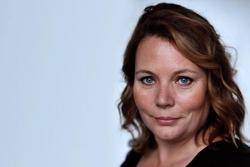 Staff at Pontio are delighted to be able to welcome famed actor and screenwriter Joanna Scanlan (The Thick of It, Getting On, No Offence) to the Arts Centre's cinema for a post screening Q&A session following a screening of her latest film PIN CUSHION by first time director Deborah Haywood on Saturday 15th September at 8.15pm.
Joanna called working on PIN CUSHION with Deborah 'the most rewarding experience of my career, so far. I love her!' PIN CUSHION is a dark fairy tale set in Derbyshire, which tells the story of Lyn (Joanna Scanlan) and Iona (newcomer Lily Newmark), an equally oddball mother and daughter duo who arrive in a small town to start their lives afresh. The pair have an extraordinarily close relationship and are excited to be in a new place, and determined to make the best of it, but the harsh realities of high school and adolescent bullying soon start tearing them apart. As both women try to protect each other from the abuse they're being put through, the comfortable little world they had created starts to rot from the inside out in this very special and highly acclaimed debut UK feature.
Joanna is a very well known BAFTA nominated actress on the small screen, starring and writing for acclaimed comedies such as 'Getting On', 'No Offence' and 'The Thick of it'. Also, a familiar face on the big screen with dramatic appearances in films such as 'Girl with a Pearl Earring' 'Bridget Jones's Baby' and with Ralph Fiennes in the Charles Dickens biopic 'The Invisible Woman'.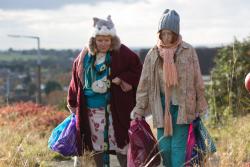 Emyr Glyn Williams, Pontio Cinema Co-ordinator said:
"Joanna's roots are very much here in North Wales. She was brought up in the Vale of Clwyd before moving to Bangor thirty years ago when her parents both enrolled as mature students at Bangor University – her father studied Fine Art and her mother studied History. She has lived in Bangor on and off over the intervening years and most of her family are now Anglesey based - so it is really wonderful for us to be able to have her present 'in her home town' to enjoy a special screening of her brand new film."
Joanna will be present for a post screening question and answer session, which is guaranteed to be one not to be missed. She is a firm supporter of the work that BFI, Reclaim the Frame, Birds Eye View and Cinema for All are doing to make going to the movies a juicy, fun, welcoming experience for everyone, makers and audiences alike.
This event forms part of Pontiuo's new term welcome weekend and tickets will be available on special offer as 2 for 1 for this event and are available to all Pontio customers. Buy now before they all sell out.

Publication date: 12 September 2018