North Wales schools invest in financial and business skills competition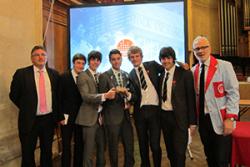 Stock Market Challenge Event Winners: Rydal Penrhos School (L-R): Michael Farnell (teacher), Dominic Hearth, Lewis Pullman, Mathan Al Hemyari, Harry Ormerod, Alex Farnell and Martin Barnes from Ten Lane Learning. Students from across north Wales got the opportunity to experience the excitement and the adrenalin of dealing on a live trading floor thanks to a Bangor University initiative called Stock Market Challenge.
The challenge involved 140 students from 13 schools and took place on Thursday, 27 June at Bangor University. The event was hosted by Bangor Business School.
Working in small teams, the Year 12 students were challenged to use their skills to manage a portfolio of shares and foreign currency. They made their investment decisions by interpreting and analysing information from the financial markets. The simulated live trading took place over a two-hour period and the team with the highest portfolio at the closing bell won.
Rydal Penrhos School stormed the trading floor and came out on top finishing with an exceptionally well-managed fund of £63,700. The runners up Ysgol David Hughes, Menai Bridge were not far behind and made an impressive profit of £60,200. Sweeping the outstanding individual awards were Alicia Roberts of Ysgol Friars, for best Media Analyst, and Rees Hope of Ysgol David Hughes for his Ethical Investment report.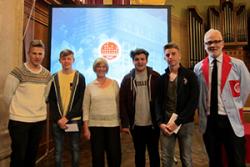 Stock Market Challenge Runners Up: Ysgol David Hughes (L-R): Glen Williams, Ianto Gruffydd, Sue Marshall (teacher), Rees Hope, Liam Aston and Martin Barnes from Ten Lane Learning (missing from photo: Joe Roberts)This year, Bangor Business School made this unique experience accessible to hundreds of students by giving the participating schools a free licence for the Stock Market Challenge online resource. In the run up to the events, Welsh BAC, Business Studies and Maths teachers ran in-school challenges to select the five pupils who represented them.
Meinir Llwyd of Bangor Business School said: "We think it is essential that we focus on developing the qualifications and skills of our young people, to ensure the appropriate skills base is in place to take advantage of the job opportunities now and in the future. Initiatives such as the Stock Market Challenge provide us with an opportunity to introduce the university to young people whilst also helping our next generation of business leaders to consider a high value qualification in finance, banking or accounting."
Publication date: 9 July 2013