Opening of new Bangor University biotechnology research centre
A research centre that will discover new enzymes with the potential to transform the efficiency of biotechnology industries has just been opened in the presence of research scientists from across Europe, industry representatives and officials from the Welsh Government.
The Centre for Environmental Biotechnology (CEB) places Bangor University at the cutting edge of research into how unusual microorganisms that live in extreme environments (called "extremophiles") can be used to make industrial processes and products "greener". The CEB facility will provide state-of-the-art equipment and world-leading expertise for identifying and isolating enzymes from extremophiles.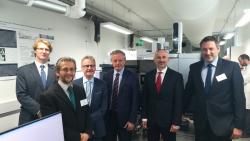 (L-R) Baudewijn Morgan (WEFO), Prof John Healey (School of Natural Sciences), Prof Colin Jago (School of Ocean Sciences), Prof John G Hughes (Vice-Chancellor), Prof Bela Paizs and Prof Peter Golyshin (both CEB Co-Directors)
At present, many industrial sectors such as food, pharmaceuticals, fine chemicals, cosmetics, energy and new materials use inefficient chemical synthesis processes. These require high energy consumption and use of organic solvents that are damaging to health and the environment. This imposes high costs on these industries.
To replace chemical synthesis with environmentally friendly processes CEB will identify, develop and test biological catalysts (enzymes) from extremophiles. Because these microorganisms are able to live under harsh conditions of high temperature, salinity or acidity, their enzymes are very well suited to work in the extreme conditions of an industrial process. This will reduce the energy use, pollution and costs of key sectors of the economy, such as life sciences, pharmaceuticals and chemical manufacturing.
Speaking at the launch, Professor Peter Golyshin, Professor of Biotechnology at Bangor University and Co-Director of the new centre, said: "This new Centre provides a great opportunity to combine the university's cutting-edge staff expertise in bioanalytics with our leading expertise in microbiology and genomics of extremophiles and enzyme discovery and applications. Enabling this team to work in a new centre with state-of-the-art research instruments the Centre will lead to major new discoveries about how extremophiles can survive at the limits to life and how we can harness this capacity to achieve breakthroughs in the efficiency and environmental sustainability of many industrial processes."
The Centre, located at the University's School of Natural Sciences, has received £5m of EU funding through the Welsh Government and will boost the region's capacity to work with industry and to further develop this rapidly-emerging sector.
Welcoming this latest development to Bangor University's research portfolio, Welsh Government Cabinet Secretary for Economy and Transport, Ken Skates AM said:
"It's fantastic to see this cutting edge facility up and running. Another feather in the cap of Bangor University, it will provide ground-breaking research in this this rapidly expanding global sector, encouraging inward investment and ensuring Wales takes full advantage of future opportunities.
"It's important, too, to recognise that this has all been made possible thanks to £5m of EU funding, which continues to play such an important role in supporting growth, innovation and jobs across Wales. It's absolutely vital to so many of our sectors and institutions that we see replacement funding from the UK Government after we leave the EU."
Publication date: 16 October 2018