Outstanding Bangor University student receives national award for marine conservation research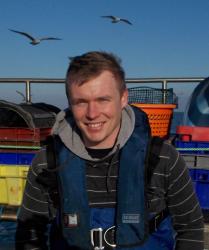 Bangor University PhD student Jack Emmerson has been awarded the Marine Conservation Society Wakefield Memorial Award, for his project 'Sustainable static-gear fisheries in the Irish Sea'.
The P1 Marine Foundation 2015 National Student Awards, which are supported by The Crown Estate, Marine Conservation Society and the Institute of Marine Engineering Science and Technology (IMarEST), will be presented at a central London venue in February. The awards were launched by P1 Marine Foundation in 2012 to reward students in higher education who produce outstanding work that will help to protect and conserve the marine environment. The ceremony will give the students the opportunity to showcase their projects to an audience of academics, business leaders and NGOs.
One of the judges from the judging panel, Dr Laura Foster, Marine Conservation Society Pollution Programme Manager said,
"It was really great to see breadth and innovation from students working on helping to conserve our oceans. The variety of projects awarded reflects the quality of the submissions and it is wonderful to see the next generation of marine conservationists."
Jack a PhD student at the School of Ocean Sciences explained:
"In my project I will gather scientific evidence that will support a number of fisheries in Wales and the Isle of Man. I will be investigating how fisheries effect lobster, crab, whelk, prawn and the wider ecosystem to ensure a sustainable future".
Jack, 24, from Flamborough in East Yorkshire, is currently living on the Isle of Man and will be working as part of a remotely-based team of Bangor University scientists until 2020. He said,
"My future plan is to develop a career in marine biological/fisheries research that will take me around the world, where I hope to address some of the many challenges facing global fisheries".
About Bangor, he added:
"I feel privileged to progress my academic career further within Bangor University and the School of Ocean Sciences considering their outstanding international reputation in the field and their excellent reputation in industry. To study at the School of Ocean Sciences and have access to a world-class, relevant and dynamic research environment is an amazing opportunity. The breadth and depth of expertise throughout the University means that I can tap into areas of knowledge that bring immense value to my research."
Publication date: 1 February 2016