Over 160 pupils attend residential course arranged by the School of Welsh
Between 14 and 18 November, over 160 'A' level pupils from all over Wales – both first language and second language students – attended a residential course organised by Bangor University's School of Welsh in conjunction with the Urdd, the leading Welsh youth movement, at their centre in Glan-llyn.
Professor Gerwyn Wiliams, Head of the School of Welsh, commented on the course's success: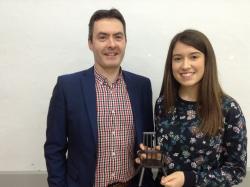 "Once again, this year's course was a resounding success and the pupils and their teachers enjoyed a varied and rich offering. Among the speakers were authors and specialists such as Manon Steffan Ros, Ifor ap Glyn, Myrddin ap Dafydd, Karen Owen and Menna Baines. There was also an opportunity to listen to presentations by Bangor staff members such as Angharad Price, Jason Walford Davies, Manon Wyn Williams and Aled Llion Jones together with Llion Jones, Director of Canolfan Bedwyr, and research students such as Gruffudd Antur and Elis Dafydd, both of them previous Chair-winners at the Urdd National Eisteddfod."
One of the highlights is the Talwrn, the annual poetry competition, and a replica chair created by Angharad Pearce Jones was presented to the winning poet. In the photograph, this year's winner, Meleri Williams of Swansea's Ysgol Gyfun Gŵyr, is seen being congratulated by Professor Jason Walford Davies.
Gerwyn Wiliams added:
"Meleri benefits from a strong tradition. In recent years, winners of this prize - Iestyn Tyne, Gwynfor Dafydd and Lois Llywelyn Williams – have all gone on, between them, to win the Crown, the Chair and the Drama Medal at the Urdd National Eisteddfod."
Therefore there's a clear message: to excel at your 'A' levels and achieve national success, this is the course to attend!
Publication date: 23 November 2016