Particle smashing by Large Hadron Collider creates music at festival
A new piece of music created by using data from the world's largest and most powerful particle accelerator will be performed at festival in North Wales.
The performers at Bangor Music Festival will be using laptops to alter the sounds from the particle smashing done by the Large Hadron Collider at the European Organization for Nuclear Research, known as CERN, in Geneva.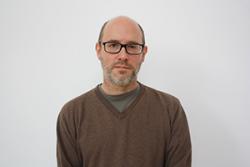 Scott WilsonThe musical mastermind behind the piece called Dark Matter is Canadian composer Scott Wilson who lectures in composition and electronic music at Birmingham University.
The concert by his four-strong ensemble at Pontio in Bangor on Saturday, February 3, will be one of the highlights of the Festival, which starts the day before.
The theme of this year's festival is Space and appropriately there will also be an opportunity for some star-gazing using powerful telescopes atBangor's Roman Camp.
According to the Festival's artistic director, Guto Pryderi Puw, a Senior Lecturer in music and Head of Composition at Bangor University, the two-day event will be a unique opportunity to explore space, planets, stars and galaxies through the medium of science and music.
He said: "We are looking to inspire whole families with music, but this year there is a strong scienetific angle to the events, which give another perspective. I'm particularly looking forward to the live electronic sound event led by Scott Wilson and performed by the Birmingham Ensemble for Electroacoustic Research within the concert at Theatr Bryn Terfel.
"With additional music by Jo Thomas, it promises to be an amazing concert and is a perfect example of combining elements of science and music technology that results in a highly creative and imaginative experience for all. It will undoubtedly be a highlight of the Festival."
Scott Wilson, 48, who was born in Vancouver, and studied at the Simon Fraser University in Canada and the Westley University in the US state of Connecticut before completing a doctorate at the University of Toronto says his ensemble will make electronic music from collision data taken from the LHC.
He said: "The LHC consists of a 27-kilometre ring of superconducting magnets with a number of accelerating structures to boost the energy of the particles along the way. Inside the accelerator, two high-energy particle beams travel at close to the speed of light before they are made to collide.
"For example, we might take a particle's mass and map that to the pitch of a sound, and its velocity to its loudness. In a similar fashion we also visualise the data on a projector.
"Some of these visualisations are close to the collisions showing what they might 'look' like while some are more abstract.
"When doing this we are improvising, using an approach called live coding. This involves writing programmes that can be rewritten while they are running.
He added: "By taking different sub-atomic particles we can map their velocity and radius to decide the pitch of the sound and the velocity to decide how loud it is. As musicians we are making choices as to what we map.
"And using the data allows us to have an element of discovery. It's an exciting way for the ensemble, four musicians using laptops, to make exciting electronic music."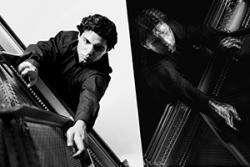 Zubin KangaThe Festival will get underway with a concert exploring the theme of Space by the Australian pianist Zubin Kanga, that includes festival commissions by Maja Palser and Claire Victoria Roberts.
Kanga is in great demand at many international festivals, including the BBC Proms as well as appearing as soloist with orchestras such as the London Sinfonietta and the Melbourne Symphony Orchestra.
Guto said: "The Festival has commissioned two new piano pieces for Zubin Kanga to perform, notably by Cardiff-based composer Maja Palser, who recently represented Wales at the World Music Day in Canada, and rising star Claire Victoria Roberts, currently studying a PhD in composition at Bangor University and who is a very talented composer in her own right.
The Festival will also hear iconic pieces inspired by the planets and stars by American composer and master of avant-garde music George Crumb and British composer Patrick Nunn.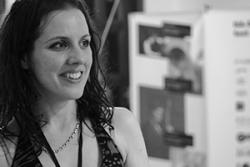 Maja Palser"Throughout the Saturday there will be many free events taking place alongside our main concerts within Pontio, where science sessions that explore the Planetarium run side by side with musical sessions for young children under the direction of Marie-Claire Howorth.
"Audiences will be captivated by the performance of student compositions performed by the Bangor New Music Ensemble and local instrumentalists will be encouraged to improvise with the Bangor University Fusion Ensemble. Why not join in the fun!"
Throughout January there will be a series of educational workshops in local primary and secondary schools leading up to the main Festival.
For more information about the festival on February 2 and 3 and to book tickets go to www.bangormusicfestival.org.uk/
Publication date: 6 December 2017