Performing, Pontio and my PhD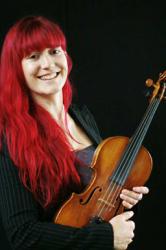 Katherine BetteridgeWales is renowned for its mountains, myths and music, which are precisely the reasons that lured a Yorkshire-born PhD student to study at Bangor University.
When the time came for Katherine Betteridge, from Halifax, West Yorkshire to find a university, she looked at Bangor's School of Music which seemed to be 'the one' that would really look after her. Katherine studied for an undergraduate and postgraduate music degree at Bangor University and in 2012 began a part-time PhD in Composition whilst concurrently working at the University's Centre for Mindfulness.
About her decision to study at Bangor, Katherine said: "I feel like my life has really blossomed here and I have received huge support and encouragement along the way from the School of Music and also from the University."
To help support her undergraduate studies, Katherine worked part-time at a local pub, at the University Library, teaching violin as well as with Ensemble Cymru, the University's ensemble in residence. She currently teaches composition in seminars to first year students and runs the occasional composition workshop. In 2014 Katherine created a module on Frank Zappa and teaches it to second and third year undergraduates and masters level music students.
Since her master's degree, Katherine has been involved in running workshops in schools and runs a professional string quartet, The Snowdonia String Quartet. She is also the joint artistic director for an arts company called Exploration in Sound which she founded along with two friends – local born clarinettist and composer, Sioned Eleri Roberts and Canadian musicologist and flautist, Twila Bakker in 2014. The company is made up from a group of creative people from many walks of life, such as musicians, dancers, actors, artists, installation artists, film-makers and story writers.
Amazingly, as well as juggling her studies with working and performing, Katherine has also been involved in some interesting projects. Katherine explains: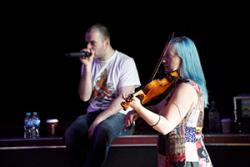 Katherine performing with Ed Holden."The most recent project I was involved with was BLAS, an arts outreach event for young people with Pontio, the University's Arts & Innovation Centre. 'You Are Here', a music and dance project which explored the special places young people visit in their imagination involved workshops with the beatboxer Ed Holden also known as Mr Phormula; a dancer, Sarah Mumford; six local schools, and myself on the violin. The project culminated in a performance in JP Hall with professional breakdancers, Steel City Rockers, from Sheffield.
"It was a really amazing project to be involved in. The idea came from Mared Huws, Pontio's Arts Development Co-ordinator, and I suspect that every single child and adult who was involved will remember the experience with fondness for the rest of their lives. Ed Holden is brilliant to work with and the kids absolutely loved him. The ideas which formed the pieces of music we created with the children came from the children themselves. It was amazing to see it all come together as their artistic ideas started to flow."
Katherine has several highlights of her time at Bangor, from performing a concerto with the University Symphony Orchestra to leading the Baroque Orchestra for several years. She explained:
"During my undergraduate degree I performed the solo from Spring from Vivaldi's Four Seasons with the Baroque Orchestra and later on I also had the amazing experience of playing Kabalevsky's Violin Concerto with the large University Symphony Orchestra. During my PhD I have had pieces that I have written performed by professional ensembles, for example, I had a piece performed at the Bangor New Music Festival in 2013 by Psappha. Hearing my music brought to life by a professional ensemble who really "got" the piece and performed it with soul was an incredible experience.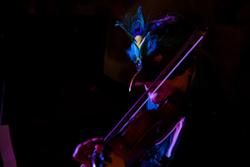 Katherine performing in Exploration is Sound's event Lie Still Sleep Becalmed"The most recent highlight was putting on a hugely successful, multi-media production with Exploration in Sound called Lie Still Sleep Becalmed in Powis Hall. This was independently led by students, and had no restrictions on creativity, which was an absolutely fantastic experience. We did two performances and both sold out, which was amazing because we marketed it in a very mysterious and secretive way! The feedback we received afterwards was overwhelmingly positive and we have subsequently been invited to perform at several exciting events in the future. We are also working at setting up various pop-up performances at interesting historical locations around north Wales as the area is a haven for fascinating buildings and architecture. We are also making enquiries further afield and looking into performing in England and Scotland."
Like many students, Katherine had to overcome obstacles while studying, an intense fear of performing was one. To overcome her fear, Katherine learned about mindfulness and meditation, which helped her tremendously. She also experienced extreme pressure during both her bachelor's and master's degree due to the combination of working, performing and studying. However, all her hard work paid off as she achieved a first-class degree and as a result won a scholarship to do her master's.
Katherine's future aims are to be able to perform, write music, teach and travel, and said: "If I can maintain a healthy balance between those different aspects I will be an extremely happy Yorkshire lass!"
Publication date: 19 August 2015