PhD student takes top prize at Legal Wales Conference
A Bangor University student beat legal students from across the country to take a top prize at this year's Legal Wales Conference.
Huw Pritchard, currently in the final year of his PhD studies at the Law School, was awarded joint first place in the contest for which entrants were required to answer the question: "With the National Assembly for Wales now exercising primary legislative powers, is the development of a separate Welsh jurisdiction inevitable?".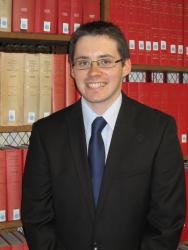 PhD student Huw Pritchard took joint first prize in the Legal Wales Conference essay contest.
"Following a referendum in March 2011, which resulted in basic legislative powers for the Assembly, there has been debate regarding the development of a jurisdiction for Wales that is separate to the existing joint jurisdiction of England and Wales" explains Huw, 26, on his personal approach to the question. "No jurisdictional changes have been brought about by the Wales Government Act of 2006 or any other statute. Despite this, administrative developments in the courts, the legal profession and the judiciary have resulted in some jurisdictional changes which correspond to constitutional developments in Wales. The Welsh Government and the Assembly are currently in consultation on this issue so we can expect some interesting discussion over the coming months."
Heading the judging panel of the essay contest was Sir John Thomas, President of the Queen's Bench Division, while the prize was presented by Baroness Hale, Justice of the Supreme Court. "I'm extremely glad and thankful to be named as one of the winners of this prize", commented Huw, who receives a scholarship from the Coleg Cymraeg Cenedlaethol towards his doctoral studies. "Welsh Public Law is my area of research, so to take part in this competition in its seminal year has been a very worthwhile experience. I hope that the contest will go from strength to strength over the coming years as it is an invaluable experience for students like myself."
Currently completing his PhD thesis on Devolution in the UK and Europe, and as a member of Bangor's Public Law Research Group, Huw has abundant expertise in this particular area. The Legal Wales Conference also saw him join his fellow researchers and Bangor Law School lecturers Dr Osian Rees and Dr Alison Mawhinney in giving a presentation on their latest research findings. "We have been looking at the legal and practical elements of Northern Ireland's jurisdiction to see what lessons Wales can learn from the Northern Irish experience" explains Huw, who hails from Bethesda. "Thanks to sponsorship from the Society of Legal Scholars we were able to travel to Belfast to meet with various legal organisations and individuals. Now, following the response and the interest we had at the conference, we will be preparing a full report of our conclusions over the coming months".
Publication date: 12 November 2012