Plaque to commemorate poet, Tony Conran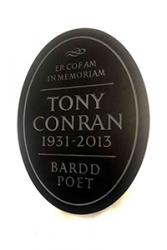 Tony Conran's achievement as a writer has been commemorated by the erection of a Plaque in the Main Library at Bangor University. A short ceremony was held in the Library recently when poems to two of his past friends and colleagues who were inspirational to him – the late Professor John Danby and the late Professor Bedwyr Lewis Jones - were read by Dyfan Roberts and John Griffiths, members of the Conran Poetry Chorus.
The plaque was created with the support of the Rhys Davies Trust, Literature Wales and of the family, friends, and former colleagues of the writer, who was also research fellow and tutor at the University's School of English. It was made by Ieuan Rees whose calligraphy and carving are renowned. The material used is Welsh slate.
A small exhibition of the works of the poet and items from the University archive was set up in the Shankland Library for the occasion and will remain until the end of April.
The historic and contemporary Library is used by the local community as well as students and staff of the University and the memorial will remind those who come into the Library about the writer and provide a focal point for admirers of his work.
Publication date: 21 April 2016