Pontio's first ever artist residency broadcast on S4C - "Corneli Cudd" / "Hidden Corners"
A short film of the Pontio project's first artistic residency will be shown as part of S4C's 'Calon Cenedl' (Heart of the Nation) series this December.
Footage shot by Bangor University student Osian Williams at the Plas Hedd care home in Maesgeirchen, Bangor will air at 7.55pm, Monday 3 December 2012.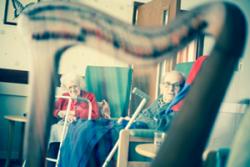 Musician and composer Manon Llwyd spent one month sharing the day-to-day lives of the residents, many of whom suffer from dementia, taking music to every corner of the home and at all times of the day. The project, part of Pontio's arts programme, aimed to deliver new experiences out in the community and turn the conventional music "concert" on its head.
The short film entitled 'Cân i Emrys' (A song for Emrys) shows the unique experience of resident Emrys Roberts as Manon played the harp with him.
Pontio's Artistic Director Elen ap Robert said:
"Ensuring we take the arts out to everyone and tailor the experience to their specific needs is a priority for the Pontio project. Sometimes we have to work a little harder to reach those who are not so easy to find.
"Finding those hidden corners was our goal with this project and our hope is that other residencies beyond Plas Hedd will follow as a result.
"We wanted to turn the hour-long traditional concert in the living room on its head – and take the music to every corner of the home, to everyone including individuals isolated in their rooms, and at all times of the day."
Artist in residence Manon Llwyd added:
"The intention was not to go in as an entertainer, but rather to melt into the community at the home by offering musical creativity 'on tap'. It has, for me, been a life changing experience."
The film can be viewed here.
Publication date: 30 November 2012