Popular Dementia based art to showcase in Rhyl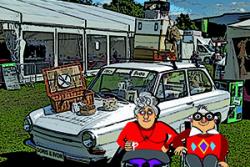 Doris & Ivor at LlangollenBangor University's Dementia Awareness Week's activities culminates with a humorous art installation that comes alive at dusk, at the Taste Academy, Rhyl.
Born out of the Dementia and Imagination UK-wide research study, Doris and Ivor are fictional characters inspired by the humour that research artist Carol Hanson witnessed at Dementia and Imagination art groups. After a successful installation at a kiosk at the front of Bangor Pier during Dementia Awareness Week, Carol's newest exhibit will take place in Rhyl on 21st May, and will be available to view until 9th June.
Carol is a designer and animator based in Cheshire. She has been observing some of the Dementia and Imagination art sessions with participants living with dementia in north Wales. Carol has used her illustrative style to create a number of art installations about the project. Last year, she transformed a vintage Daf 44 car with paper labels and décor which appeared at the International Eisteddfod in Llangollen. She also created a cartoon campsite which toured to The Green Man Festival.
Carol said: "This will be a static cartoon installation during day-light hours but will come to life with animation on Mondays through to Saturdays, from dusk until 10pm. Taking inspiration from the humour and artwork of the participants of the study, it will be constructed from unloved paper and packaging, mixed with labels, artist canvases and animation and will form Doris and Ivor's 'bungalow', inviting people to look into their world and see those with dementia in a new light."
The Dementia and Imagination project is led by Dementia Services Development Centre Wales, which is based at Bangor University's School of Healthcare Sciences. The research is looking to understand how art may help people living with dementia, their relatives, carers and communities. The study has worked locally with Denbighshire County Council Arts Service to run art groups for people living with dementia who are still living at home.
Dr Teri Howson who is one of the study's researchers said: "This newest installation is a fantastic way to share Carol's art work with one of the communities which inspired her and where people have been involved in the research. We hope that the exhibition will stimulate discussion and challenge perceptions of people living with memory difficulties".
Denbighshire Arts Service delivered the Dementia and Imagination workshops that form the basis of Carol's work. They are currently looking for new members to join Lost in Art sessions in Rhyl on Thursday afternoons. Please contact Sian Fitzgerald on: sian.fitzgerald@denbighshire.gov.uk Tel: 01824 708216
Publication date: 19 May 2016