Premiere was a howling success thanks to Rhys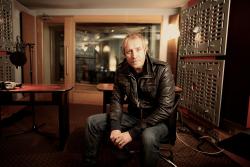 Supporters of Hollywood actor Rhys Ifans, who is also an honorary fellow of Bangor University, were special guests at a preview of a production of ' Peter and the Wolf ' in the Welsh language for the first time this month.
Ensemble Cymru, the Ensemble in Residence at Bangor University, along with television company Fflic Cyf , hosted the exclusive preview at Venue Cymru Llandudno, where the ensemble are also resident.
The special performance featured a live orchestra of 28 Ensemble Cymru musicians, illustrations by children's illustrator Marc Vyvyan Jones, narration by Rhys Ifans of Professor Gwyn Thomas Welsh translation of the traditional Russian story .
In a special reception before the performance Mr and Mrs Evans received a commemorative frame on behalf of their son, as a 'thank you' to Rhys for his valuable contribution to the project ;
"Rhys would love to be here himself but we are very pleased to be here on his behalf…we cannot wait to tell him all about it!" Said Mrs. Betty Evans .
Rhys's narration captured the imagination of special guests Pentrecelyn School, where he himself was once a pupil and where Mrs Evans was once a teacher . They were elated to be part of such a momentous occasion , one pupil told us "It was a great show, I liked ALL of it!"
'Peter and the Wolf' was composed by Sergei Prokofiev who had a very similar goal intention to that of the Ensemble; to introduce the orchestra to children for the first time.
Peryn Clement-Evans , Artistic Director of Ensemble Cymru explained "We're thrilled at the positive response from children, parents and guests to our preview. I'm looking forward to hearing the responses of the children and schools that came to the performance so we can bring their ideas into the Peter and the Wolf production ready for the national tour in 2014 "
Thanks to the support of the Arts Council of Wales, S4C, Bangor University, Venue Cymru and several trusts this production will go on tour March 2014 bringing live orchestral music to families and children across Wales .
You can watch the performance of 'Pedr a'r Blaidd' (Peter and the Wolf) on S4C on Christmas Day .
For more information and for tickets for the 2014 tour please contact Ann Wyn Barker, Marketing Officer, ann@ensemblecymru.co.uk or 01248 383 257
Publication date: 28 October 2013