Prestigious award for Bangor Scholar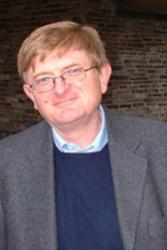 Professor Tom Corns FBAThe School of English Literature is delighted to announce the award of a Fellowship of the British Academy (FBA) to Emeritus Professor Tom Corns.
Each year, the British Academy elects to its Fellowship up to 42 outstanding UK-based scholars who have achieved distinction in any branch of the humanities and social sciences. In the words of the British Academy, fellows are scholars who have 'attained distinction in any of the branches of study which it is the object of the Academy to promote'. This title is the highest honour in the UK for a scholar of the arts and humanities.
Professor Corns is an internationally renowned expert on seventeenth-century English literature and, in particular, a leading authority on the work of John Milton, author of the great English epic poem, Paradise Lost.
Professor Corns retired from teaching in the School of English Literature in 2014 after a career at Bangor that took him from junior lecturer to Pro-Vice-Chancellor. He continues to be an active researcher, much in demand at home and abroad for his knowledge and expertise, and he is currently the joint general editor of the new Complete Works of Milton for Oxford University Press.
In the words of Dr Andrew Edwards, Dean of the College of Arts and Humanities, 'This is a fantastic achievement and one which rightly recognises Professor Corns' immense contribution to the humanities and social sciences over a long and distinguished career. This is a great honour for both Professor Corns and Bangor University.'
Publication date: 1 September 2015