Prestigious early career award goes to PhD student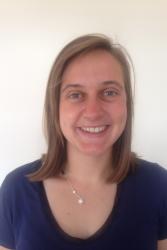 Megan Baker will receive her Award in September.A Bangor University PhD student is the first female to be awarded an international prize for her outstanding work in the field of marine sedimentology.
Megan Baker was awarded the International Association of Sedimentologists RICHARD W. FAAS RESEARCH PRIZE and a cash award of €2000. The Faas prize is awarded every two years to an early career researcher. This is also the first time that this prize has been awarded to a PhD student.
Megan will receive the Prize at the Association's 34th annual conference in Rome in September 2019. She will also give a keynote presentation at the conference.
Originally from Poole, Dorset, Megan came to Bangor University's School of Ocean Sciences to study a BSc in Ocean Science, followed by an MSc in Applied Marine Geoscience. She has continued her studies at the renowned School, following a PhD in underwater landslides in the marine environment.
As a sedimentologist, Megan studies underwater landslides such as that which could have caused the recent Indonesian tsunami. We know far less about underwater landslides than we do about the land-based variety. Underwater landslides can be extremely violent and destructive and have implications for underwater engineering projects and structures, including oceanic communication cables that keep the Internet working. The deposits of these flows is also very important for oil exploration.
Megan has already received an award from the British Sedimentology Research Group for the best sedimentological MSc thesis of all British and Irish Universities and she has also been awarded a Drapers Silver Medal. This is the higher of two medals awarded annually by Drapers' Company to outstanding research students at Bangor University.
Commenting on her latest award, Megan said:
"Receiving such a prestigious prize from an international association is very exciting. I feel particularly honoured as the award is decided by scientists on the Bureau of the International Association of Sedimentologists."
Megan says of her experience at university:
"I chose Bangor because of the reputation of the School of Ocean Sciences and its fantastic location, which is great for both fieldwork and extracurricular outdoor activities. The department has such a friendly atmosphere, which you really appreciate as a student, as the staff are always on hand to help. I think that is why I haven't managed to leave yet!"
She added:
"After my PhD I would like to stay in academia and get a post-doctoral research position. I love the stimulating environment of academia and how you can be doing something different every day."
Jaco Baas, Megan's PhD supervisor who nominated her for the prize, said:
"Megan fully deserves the prize from the International Association of Sedimentologists. Her work on the effect of sticky clay on the movement of underwater landslides is novel and important. In combining physical and geological methods in the field and in the laboratory, she has attracted wide interest from academia and industry."

Publication date: 30 January 2019