Professor Bernardo Batiz-Lazo recognised for excellence in academia
Professor Bernardo Batiz-Lazo has been awarded a prestigious prize by his alma mater in recognition of over 15 years of professional excellence.
Professor Batiz-Lazo, Professor of Business History and Bank Management at Bangor Business School, was awarded the 'Premio al Merito Profesional' (Professional Merit Award) by the alumni association of the Instituto Tecnológico Autónomo de México (ITAM).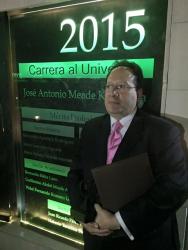 Professor Bernardo Batiz-Lazo was recently awarded ITAM's Professional Merit Award
The 'Premio al Merito Profesional' prize is given to ITAM graduates who have demonstrated professional excellence in five sectors: public service, corporate, entrepreneurial, social and charitable, and academic. Past recipients include Felipe Calderon, former President of Mexico; Alejandro Werner, current Director for Western Hemisphere at the International Monetary Fund; and Agustin Carstens and Miguel Mancera, current and former Governor of the Bank of Mexico, respectively.
Professor Batiz-Lazo is the first non-resident of Mexico to receive this prestigious and sought-after award. "I am delighted by the acknowledgment of years of hard work from my alma mater, given the large number of successful alumni", he commented. "In this call there were no less than 2,000 candidates considered. I was humbled by the overwhelming show of support in social media from family, friends, former colleagues and the general public.
"At the same time, it is an opportunity to highlight the importance of a research agenda that crosses over the humanities and the social sciences, as does my interest in the role of computers in the history of capitalism", he added.
Javier Chavez Ruiz, CEO of Mexico Mobile and former Dean of ITAM's Business School said: "this is the biggest honour that our beloved ITAM awards its most successful alumni. It is in recognition of Bernardo's brilliant and highly successful academic career, which transcends national frontiers".
Publication date: 16 November 2015