Professor John Ashton awarded Honorary Fellowship by Chartered Banker Institute
Professor John Ashton has been awarded a prestigious Honorary Fellowship by the Chartered Bankers Institute of Scotland.
The Fellowship recognises Professor Ashton's significant contribution to banking research and education. The award citation recorded his numerous contributions to research in the fields of financial regulation and the economics of banking, in addition to numerous policy contributions in the UK and beyond. His long term commitment to professional engagement and contribution to banking education was also recorded.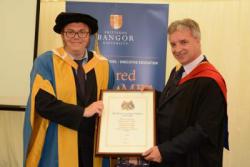 Professor John Ashton (left) receives his Honorary Fellowship from Mr Colin Morrison, the CBI's Deputy Chief Executive & Director of Education
A Professor of Banking, Professor Ashton undertakes various roles at Bangor Business School, contributing to teaching, publishing, administration and editing the Journal of Financial Regulation and Compliance. He is the Academic Director of Bangor's Chartered Banker MBA, a unique and innovative blended learning programme which has so far been completed by over 500 bankers across the globe.
Commenting on the award, Professor Ashton stated: "It is very flattering to receive the Fellowship. This award also reflects the hard work of my many colleagues within the Banking and Finance group at Bangor Business School".
Designed for experienced banking professionals, the Chartered Banker MBA focusses on developing professionalism and enhancing leadership, ethical practice and risk management. It is the only qualification in the world to combine an MBA with Chartered Banker status, with the latter being the highest professional award available to bankers worldwide.
Publication date: 10 August 2016