Pupils fascinated at hands-on practical Chemistry Festival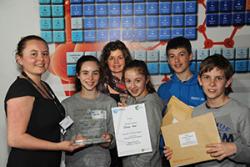 Bishop Heber High School - 1stA team of young chemists from Bishop Heber High School in Cheshire won first prize at the Salters' Festival of Chemistry, held at Bangor University's School of Chemistry recently.
Teams of four 11-13 year olds from eight schools in the north Wales region enjoyed an interesting fun-filled day of chemistry with opportunities to win prizes for their school. Ysgol Glan Clwyd came second with Ysgol Tryfan coming third in the annual competition.
During the morning the teams took part in a competitive, hands-on, practical activity, The Salters' Challenge: 'Who is the Prime Suspect?' in which they used their analytical chemistry skills. In the afternoon, they competed in the 'University Challenge', a practical activity chosen by the University, in which they were required to create a series of coloured paints using acids, bases and Universal indicator and this was followed by a Chemistry lecture 'Chemistry in the 3rd Dimension'. The day ended with a prize giving at which all participants were given individual fun prizes and participation certificates and the winning teams were awarded prizes for their schools.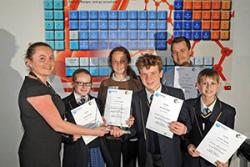 Ysgol Glan Clwyd - 2ndDelwen de Jong, RSC Education Coordinator at Bangor University, said: "The Salters' Festival of Chemistry is an opportunity for the next generation of scientists to try their hand at exploratory chemistry in a lab setting. Our aim is to inspire the next generation of chemists and scientists. We hope that the opportunity to do hands-on science, meet our staff and current students, and spend the day in the lab, will give them a real insight into life as a chemist."
Miss K Jones, Chemistry Teacher at Bishop Heber High School, said: "Our pupils had a great time at the event and enjoyed applying their chemistry knowledge to a real world application, their visit to Bangor University was inspiring."
The Salters' Festivals of Chemistry are an initiative of The Salters' Institute, whose aim is to promote the appreciation of chemistry and related sciences among the young. The Festival at Bangor University is one of a series of 53 Festivals which are taking place at Universities throughout the UK and the Republic of Ireland between March and June 2017.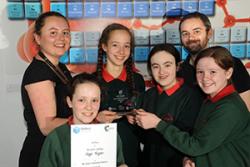 Ysgol Tryfan - 3rdThe Institute is delighted that the Royal Society of Chemistry is again working in partnership with it for the Festivals this year.
Publication date: 22 May 2017