Pupils take on Arthurian Quest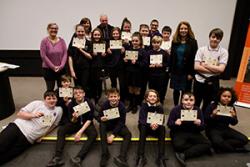 With the participating Ysgol Aberconwy 'questers' are Gillian Brownson, Richard Burrows and prof Raluca Radulescu.Pupils from Ysgol Aberconwy have been on an 'Arthurian' quest to investigate story-telling.
Inspired by Wales' 'Year of Legends', Ymgais 2018 Quest, a project by Bangor University's Centre for Arthurian Studies, invited a selected number of pupils aged 11-13 to develop modern digital storytelling adventures.
The group from Ysgol Aberconwy have been working both at their School and visiting Bangor University over eight weeks to explore legends and quests through different ways of storytelling and the different media that can be used to tell a story.
While visiting Bangor University the pupils met with Professor Raluca Radulescu of the University's School of English, an expert in Arthurian literature, who introduced the pupils to some of the Arthurian legends. They also visited the University's magnificent medieval manuscripts and rare books in the Library's Archive and Special Collections, and the Arthurian collections.
Gillian Brownson, a Community Theatre Practitioner, and experienced writer & storyteller, led the group through different activities, including interactive storytelling, theatre games, writing workshop and video diaries to challenge the young people to think about the idea of the Quest, as presented in the legends of King Arthur and how the same story structure can also be found in today's popular media. Kate Stuart, a MRes student volunteer in the School of Creative Studies and Media assisted with the use of Digital storytelling apps.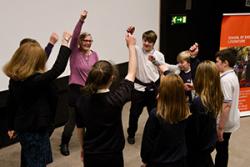 Tthe 'questers' recite their oath of allegiance one last time...Having created banners, shields and an 'oath of fellowship', working in small groups, the pupils moved to more modern digital storytelling apps to create a number of original short 'quests' inspired by the legends in the University's archives.
Gillian Brownson said: "I really saw the children's confidence and interest in stories grow during the eight weeks. They began to understand what makes a good story as was evident in some of the great stories they shared at the end of the project. There were some natural storytellers in the group and we had some fantastic quest adventures involving mythical and modern heroes."
Richard Burrows, Assistant Headteacher at Ysgol Aberconwy commented:
"Quest has been an exciting opportunity for our students. They have worked with a story-telling artist, a digital media expert and a professor of medieval Literature. This blend of expertise and creativity is exciting: it has engaged and galvanised the group and they are exploring their stories in lots of interesting [and unexpected ways]. I had the pleasure of accompanying them on their visit to Bangor University. The received a very warm welcome and I could sense a raising in their expectations. The visit to the Arthurian centre was fantastic for them. To have so many books shown to them and brought out of the archive for them by the University's Librarian gave them a great sense of worth and I felt communicated to them the importance of story. I look forward to the second half of the project."
Professor Raluca Radulescu, Director of the Centre for Arthurian Studies said:
"The Arthurian legends were popular across Europe for hundreds of years, and though we might think that interest in re-telling these tales has waned, in fact, the stories are timeless and are still with us today. We can find many of the same story structures, such as the 'quest' in many modern story telling genres including books, films and digital media.
The idea behind Quest was to show young people that stories can be relevant to their lives, and by engaging them in different activities, to encourage their interest in reading and story-telling."
"Our hope is to learn from this initial project and offer projects like this, which develop both traditional reading literacy and an ability to 'read' the stories contained in films, television and other modern media, to more local school pupils," she added.
As well as being a hub of international research exchange in Arthurian Studies, Bangor University's Centre of Arthurian Studies has hosted numerous community events, engaging young and old in the Arthurian legends.
The Centre has access to an unrivalled collection of publications, including rare editions in Arthurian studies; the collections have been enhanced through private donations which started even before the University Library was established, and have continued to grow through the dedicated work of Bangor scholars and librarians' careful preservation of the stock.
The Quest project was funded by the Bangor University ESRC Impact Acceleration Account.
For more projects at the Centre for Arthurian Studies click here.
Publication date: 4 May 2018