PwC delivers skills masterclasses to students
What does it take to get into one of the 'Big Four' accounting firms? That was the focus of two PriceWaterhouseCoopers (PwC) masterclasses delivered to Bangor Business School students last week.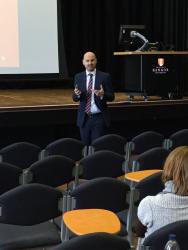 Andrew Bargery, PwC
As the no.1 Times Top 100 Graduate Employer, PwC certainly know a thing or two about what graduate recruiters are looking for.
During two intensive sessions, Andrew Bargery, PwC's Campus and School Engagement Leader, shared some of these insights and offered invaluable advice on every aspect of the application process.
The first session focussed on job opportunities with the multinational corporation - including internships, graduate schemes and professional talent academies – and incorporated hints and tips on interview techniques.
The second session went into more detail about the application process, from completing the applications form and taking the online tests, to surviving the assessment centre – a typical component of many graduate recruitment programmes.
"It was great to see such a good number of students turning up to the workshops", said Mr Bargery. "The workshops were interactive and provided opportunities for students to put themselves into interview and other assessment scenarios.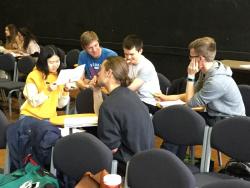 Students work together on a task during one of the skills sessions
"It was really pleasing to see all of them getting really involved and putting the theory into practice - this will stand them in good stead when they attend their next interview or assessment centre".
Students were awarded 5 points towards their Bangor Employability Award for each session they attended, demonstrating the commitment they'd shown towards enhancing their career prospects.
"Our two-day event with PwC was a great success and it was wonderful to see such a range of talented and enthusiastic students working together with PwC to develop their skills and knowledge", commented Sara Closs-Davies, Lecturer in Accounting at the Business School and the Coleg Cymraeg Cenedlaethol.
"At Bangor Business School, we are passionate about developing our students' employability and recruitment skills to prepare them towards a fruitful and stable professional career path after they graduate. This was a unique and exciting opportunity for our students to engage with a multinational 'Big Four' professional services company, and to meet one of their senior officials to work on real-life practical problems and issues they will face when looking for a job after they graduate".

Publication date: 24 November 2016