Rare Conifer first to seed in Wales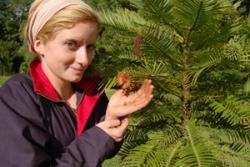 Assistant Gardener Rosie Barratt shows the Wollemi pine seedsA rare Australian conifer, growing in Treborth Botanic Garden, at Bangor University, has set seed for possibly the first time in Wales and only the second time in the UK.
There are only around 100 trees of the Wollemi pine (Wollemia nobilis) growing in its native location in a canyon in Australia. The conifer was only identified in 1994.
In an attempt to save the unusual species, scientists in Australia have propagated trees from cuttings. It is one of these which was planted at Treborth Botanic Garden, by naturalist and Honorary Fellow of Bangor University, Iolo Williams. Iolo Williams said that he was "delighted with the news".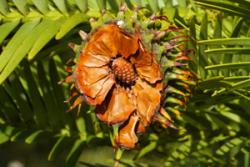 Wollemi female cone: © John Gorham"Having the conifer set seed for the first time in our Botanic Garden is great news for conservationists, as it shows that the tree can be grown in different latitudes and climate conditions around the world. The tree's success in setting seed here will contribute to its ultimate survival and to our understanding of its growing conditions," explains Curator of Treborth Botanic Garden, Nigel Brown.
"This tree has survived temperatures of minus 7 degrees during the last two winters here, and has still managed to set seed. We will now be sowing these seeds at the Botanic Garden.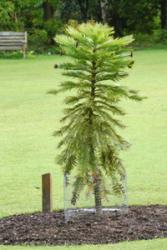 Wollemi Pine.: © John GorhamSome Wollemi Facts:
1. Wollemia nobilis is a conifer but not a Pine – it belongs to the family Araucariaceae, a group of southern hemisphere conifers which reached maximum diversity during the Jurassic and Cretaceous Periods, 200-65 million years ago.
2. It is currently known from one remote region of the Wollemi National Park, a 500,000 hectare wilderness zone in New South Wales, Australia, part of the Greater Blue Mountains World Heritage Area. The locality, which remains secret, is a series of deep sandstone gorges clothed in temperate rainforest.
3. There are fewer than 100 specimens in the wild and DNA sampling has so far failed to find any detectable genetic variation - effectively the surviving population is clonal.
4. The tallest trees are up to 40 metres high (and at least 350 years old) with a one metre diameter trunk (though many individuals naturally coppice and produce a dozen or more slender trunks). The bark is bobbly and the evergreen leaves vary in length and width and shade of green according to the age of the shoots.
5. Mature trees bear male and female cones on separate shoots, the female cone (seed cone) being green and 6-12cm long, 5-10cm wide, taking 18-20 months to mature. Male cones are slender, 5-11cm long and 1-2 cm broad.
6. Modern micropropagation methods are used to provide sufficient new plant stock to both ensure Wollemia's future survival as well as satisfy an enormous horticultural demand for what is undoubtedly a most distinctive and handsome coniferous tree with great ornamental potential.
7. In cultivation the tree is proving adaptable and robust, surviving temperatures between minus 5 degrees centigrade and 45 degrees centigrade as well as a wide range of soil types, though a well drained compost of pH 6 or less is preferable. It appears to be suitable for tub planting and takes sun or shade. Typical growth rate is half a metre annually.
8. The main pest is the root rot fungus Phytophthora cinnamomi.
9. Treborth's tree is situated just beyond the rock garden in an open site and measured 120 cm at the time of planting(July 2007) – it now measures 180 cm.(Sept 2012)
Publication date: 20 September 2012