Ray Davies Tribute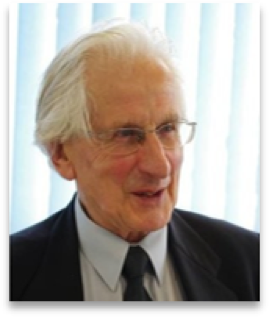 Ray Davies the Director of the Photonics Academy of Wales @ Bangor (PAWB) died on the 14th January 2021. He was 85 and still actively engaged in photonic education: co-supervising three final year project students within the School of Computer Science and Electronic Engineering, Bangor University.
His longevity in educational activity is complemented by a quite remarkable educational career path. Having been a physics teacher at Manchester Grammar School for over 25 years, he began working in higher education with the Physics Department of Salford University where he remained for 12 years. Then on the invitation of Dave Rimmer, then the Director of Technium OpTic in St Asaph, Ray began his association with the Photonics Academy of Wales in 2006. Following some changes at OpTic, Ray transferred his activity to Bangor University in 2011.
When asked to define the age range of his target audience for disseminating understanding of optics and photonics Ray indicated '8 to 80'. He practiced what he preached. His engagement with the younger end of that age spectrum is encapsulated in sessions held at primary schools. With the school bell having rung for the end of the day and groups of parents outside anxiously waiting for their offspring to appear, the pupils were oblivious to both and were simply determined to complete the task at hand. That task was the design of a 'Magical Home 'wherein photovoltaics was to be deployed to maximum effect.
The key aspect was that the designs were the work of the children and this typified Ray's approach when working with all age groups. He would initially introduce a concept or a property of light and then ask his audience to use that aspect of light to devise a novel device or system of societal benefit.
The latter qualification was central to Ray's hands-on practical approach to learning and teaching. One of his main interests was the use of light to assist partially sighted and blind people. A particular case of this was the challenge he set an assembly of European post-graduate researchers at the European Society of Precision Engineers ( EUSPEN) summer school at Downing College ,Cambridge University in 2011 The group was asked to find an optical means for helping sight-challenge people to negotiate a staircase. As he was preparing his kit to travel to Cambridge, Ray indicated to me that the previous evening he had thought of a dozen ways to meet his own challenge.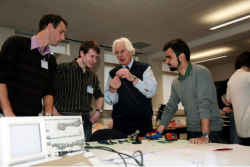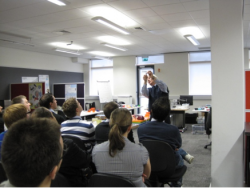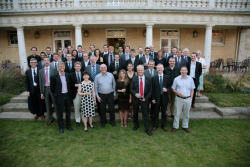 Perhaps the most fruitful context for the display of ingenuity by students was the Photonics Academy Summer School (PASS) which was initially held in Technium Optic and then for many years at the Bangor University Photonics Academy of Wales at Bangor ( PAWB) . Here about 20 young people typically 16-18 years of age would spend 4 or 5 weeks over the summer developing some stunning exemplars of the applications of optics : means for detecting debris on an airport runway ; a laser harp ; means for developing how well one washed one's hands – an application of some contemporary relevance. For the summer school it was not sufficient to have a good idea, the students were expected to construct and test their prototype. Typically, these were constructed using very colourful materials which made them highly memorable. Later in the year the students were invited to make a presentation about their achievement to a packed audience of parents, pupils , academics and industrialists. Overall, this was an excellent grounding for the participating students. The summer schools were always over-subscribed but never advertised. Word of mouth resulted in students appearing from diverse places and backgrounds.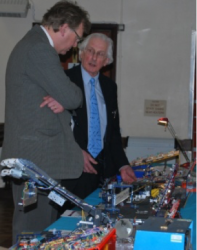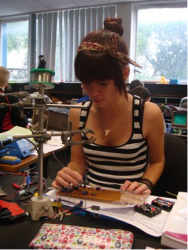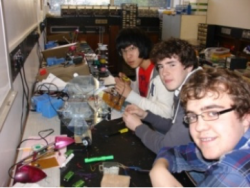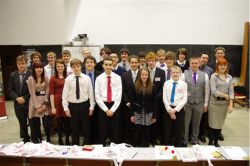 As an extension of the summer school, Ray coached a series of teams who competed with signal success at all levels of the Engineering Education 'Big Bang' competition. Of many highlights it is worthwhile to point to an event in the NEC Birmingham which was proceeding on the day that Steven Hawking died. Imaginatively the BBC went to the NEC to seek the reaction of young people there. Seeing the characteristic PAWB device before the interviewee, it was clear that one of Ray's team was being interviewed. No better choice of interviewee could have been made than Kieran Dalton one of several PAWB 'graduates' who proceeded to Cambridge (crediting much of this to Ray's mentorship), in his case to study Physics where he immediately made a mark by being placed 4th in a class of 600 at the end of his first year- building on the valuable lessons he had learned from Ray. However, Kieran did not forget the valuable lessons he had learned from Ray. Becoming secretary of the Cambridge Physics society, Kieran invited Ray to make another visit to Cambridge, where he gave a virtuoso performance as was his wont. A firm believer in experiential learning, Ray was the only speaker to transport and distribute demonstration equipment to every attendee of his talk, encouraging the students to experiment in real-time, and frequently interrupting the lecture to explain their findings.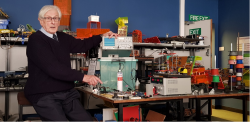 Speaking of performance, one may point to a collaboration Ray undertook with a dance company culminating in a light-assisted performance at Pontio Bangor. Ray trained a team of primary school pupils for a performance of light-based instruments at the St Asaph Music Festival. He set up his stand at the National Eisteddfod in Anglesey and introduced optics and photonics to an extremely wide audience. He spoke to groups of all ages across Wales and England. More recently, Ray had been involved with the Photo-Electric Light Orchestra (PELO) project which is a Royal Academy of Engineering Ingenious award scheme for projects that engage the public with engineers and engineering while providing engineers with skills and opportunities in public engagement. The PELO project, led by Dr Daniel Roberts of Bangor University, inspires children aged between 9-13 in the region to design their own musical instruments by implementing coding skills and by utilising photonics, to create a music score that would be performed at Pontio, the University's Arts and Innovation Centre at the final stage of the project in 2020. Ray was always very fond of the project, providing Photonics training to the engineers that would be out delivering sessions at the participating Schools. Ray had always indicated that he'd love to see a 'performance' of Photonics projects on stage in-front of a live audience which provided the motivation for the PELO project. Due to the unforeseen worldwide pandemic that followed, we never got to arrange this performance, but when possible, PELO will stage this performance in Ray's memory.
When the SPIE/OSA Education and Training in Optics and Photonics (ETOP) conference was held in Technium OpTIC in 2009 Ray took full advantage to display his approach to delegates from across the world. Further engagement with ETOP included the paper "Getting Light to Work – photonics up-skilling for industry" presented at ETOP, Oporto, Portugal in 2013. Having played an active part in the UN International Year of Light an outline of those activities was presented in the paper "Public Engagement with Photonics: International Year of Light Celebratory Event in Wales", at ETOP'15,Bordeaux,France in 2015. Further elaboration of those activities was described in the presentation "Inspiration, Imagination and Implementation: International Year of Light Activities of the Photonics Academy of Wales@ Bangor (PAWB) at the SPIE Optics and Photonics Conference held in San Diego, CA, USA, in 2016
Sometimes students were sent to Ray very much against their will but he always found a way to get them engaged. In one case a college lecturer warned Ray that a particular student was highly disruptive and should be dealt with harshly. Ray found that the student actually was extremely dexterous when given a practical task and that student shone under Ray's tutelage.
Perhaps the outstanding example of Ray's positive influence on an individual occurred when he worked at Salford University. The planned work experience for the daughter of Jay Smith, a technician in the university, fell through. Ray agreed to provide an alternative period of work experience. She and Ray immediately hit it off and she thoroughly enjoyed the project. She became convinced in this way that her future lay in Physics and pursued an MPhys and then gained a PhD at Manchester. Quite a bit of added value from a work experience project. Now she works as a holographer an occupation which would have been very pleasing to Ray. One wonder what would have been her career trajectory if Jay Smith had not known Ray.
Ray was taken from us unexpectedly and suddenly. Having devoted much of his life to educating an extremely broad spectrum of students to the excitement and opportunities of optics and photonics one hopes that means will be devised for firmly securing his legacy.
Professor K. Alan Shore
Chair, Photonics Academy of Wales

Publication date: 8 February 2021