Realising the Circular Economy (CE)
"Learn how to see, realise that everything connects to everything else" Leonardo de Vinci
Businesses are largely shaped by two important events in human development history; 1) industrial revolution and 2) globalization. Societies evolved, economic development brought prosperity but at the expense of nature and its finite resources (Cain and Hopkins 2016; McDonough and Braungart 2002; Allen 2003). According to a recent news report by a leading UK university, the cost of air pollution, if concrete measures are not taken, would rise to £5.3 billion by 2035. Similarly, the Lancet Commission reports that 'there were 9 million premature deaths in 2015 due to diseases caused by pollution. These deaths were higher than the deaths caused by smoking, wars, AIDS and natural disasters. In addition, welfare losses due to pollution are estimated to amount to US$4·6 trillion per year which accounts for 6·2% of global economic output' (www.thelancet.com/commissions/pollution-and-health)'. These severe problems are largely caused by current wasteful and unsustainable industrial processes.
Over three decades ago in 1987, the World Commission on Environment and Development (WCED) issued a report on sustainability, popularly known as Brundtland Report, which urged national governments, business organisations and other stakeholders to adopt sustainability in all sections of society (WCED 1987). The concept of sustainability and its implication also entered the business community and the organisation and management literature (Winn and Pogutz 2013; Gao and Bansal 2013). As a result, organisations have become more proactive rather than reactive, but overall the ecosystem is still deteriorating and natural resources are depleting with increasing pollution and waste (Whiteman et al. 2013). This is aggravated by a booming population. In order to progress sustainably, researchers and practitioners suggest a systemic change to transform from the take-make-waste philosophy of the linear economic model to a new economic model. In recent times, there has been much in the news as well as in the practitioner & academic domain about organisations using the Circular Economy (CE) as a sustainability paradigm.

Source: www.seattlemade.org
Arguably, an important reason for the growing recognition of CE is its inclusive strength to integrate economic development, environmental protection and social prosperity all within one actionable and achievable framework for sustainable development. Evolving from multiple schools of thought CE provides a systemic change that ensures a new industrial model which is restorative and regenerative by intention and design. The Ellen MacArthur Foundation (EMF), the leading torch bearer for CE, beautifully explains CE in this short video.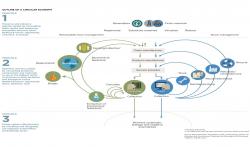 Source: www.ellenmacarthurfoundation.orgLast month, in conjunction with EMF at the London Stock Exchange an exciting seminar took place (Closing the loop: ensuring a future for business through the Circular Economy). One of the things very interesting about this seminar was its venue; the largest financial hub in the world opened its door to discuss environmental and social issues. It was indeed a very positive and optimistic gesture. Even the centre of the capital markets realise the importance of systemic change to address critical natural environment issues and ensuring ecosystem sustainability.
The guest speaker was Professor Walter Stahel, Director-Founder of Product-Life Institute Geneva, the oldest established consultancy in Europe working on developing sustainable strategies and policies. He discussed the need for adopting CE in business organisations while highlighting the role of individuals and the importance of collaborative networks to transition to CE. Ken Webster, Innovation Head in the EMF, coordinated the talk. On a reply to a question asked by the researchers from Bangor Business School, Prof. Stahel acknowledged the limitations of CE in developing countries where according to him many factors specifically the lack of competition make it difficult for the adoption of Circular Economy. The notion of CE has also gained acknowledgment in political and economic circles, for instance in the World Economic Forum and frequently in the European Union. CE is at the centre of the resource efficiency programme in the Europe 2020 Strategy. The European Commission encourages towards an economy which is circular and less wasteful. Similarly, CE is being implemented as a policy framework by the Chinese Government as a top-down approach to achieve sustainable development – watch this space!
Bangor's research focusses upon SMEs. We are asking interviewees about value creation and capture while implementing Circular Business Models and the environmental impact (direct or indirect) their operations have; material, energy and resource consumption, waste creation; issues relevant to biodiversity and emission; and social impact. We are also investigating the problems arising from transitioning to Circular Economy models and the challenges these organisations face and how they try to cope with such issues.
For further information and details about this research project please contact:
References:
Allen, R.C. (2003) Progress and poverty in early modern Europe. Economic History Review, 56(3), pp.403–443

Cain, P.J. and Hopkins, A.G. (2016) British Imperialism 1688-2015. 3rd ed. London: Routlege
Gao, J. and Bansal, P. (2013) Instrumental and Integrative Logics in Business Sustainability. Journal of Business Ethics, 112(2), pp. 241–255
McDonough, W. and Braungart, M. (2002) Cradle to Cradle: Remaking the Way We Make Things. New York: North Point Press
WCED (1987) Our Common Future. [online]. Available from: http://www.undocuments.net/our-common-future.pdf
Whiteman, G., Walker, B. and Perego, P. (2013) Planetary Boundaries: Ecological Foundations for Corporate Sustainability. Journal of Management Studies, 50(2), pp.307–336
Winn, M.I. and Pogutz, S. (2013) Business, Ecosystems, and Biodiversity: New Horizons for Management Research. Organization and Environment, 26(2), pp. 203–229
Publication date: 15 July 2019