Representing the University in Côr Cymru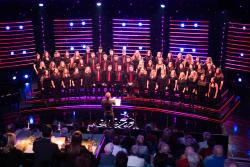 Côr Aelwyd JMJ competing in Côr Cymru: Image courtesy of and copyright S4COn Sunday 3rd March at 8.00 p.m. S4C's viewers will be able to enjoy Bangor University's Côr Aelwyd JMJ, as they give their best competing in a semi-final of the popular program, Côr Cymru.
Having succeeded in the auditions, the Choir of 60 voices competes in the Youth Choir category, in the competition which sees the winning choir in each category competing head to head in the final.
The Leader of the Choir is Steffan Dafydd, from Ruthin, a Welsh and Music student, with Catrin Llewelyn, from Deiniolen, a third year student studying Music accompanying.
Steffan said, "We've had a great experience to date, competing against many more established choirs."
"Our repertoire included Alaw Mair by Delwyn Siôn, Jonah by Brian Hughes, Gareth Glyn's beautiful arrangement of Suo Gân and Gwinllan a roddwyd by Caradog Williams."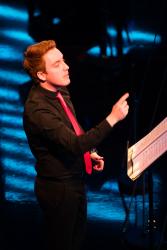 Choir conductor, Welsh & Music student Steffan Dafydd: Image courtesy of and copyright S4CCongratulating the Choir on reaching the broadcast rounds, Gethin Morgan, UMCB President, said:
"It's great to see the Aelwyd continue to go from strength to strength. These students are a great credit to UMCB and Bangor University. Their dedication to the choir is special and as UMCB President, I would like to thank all the members and officers for their hard work. "
Choir members enjoyed the experience.
"Given that we are a Choir of students and a social choir, having the opportunity to show our talents in a national competition is a great achievement. This experience was one of my highlights as a student so far," said Elain Rhys, a second-year student studying Music.
According to Ioan Rees, a second year student studying Music:
"It's great that we are maintaining the Aelwyd Choir's high standard, following their huge success in the Urdd Eisteddfod last year, when they competed against such quality choirs," was the reaction
"It was nice to see everyone coming together and sharing in music, and being able to have a break of the trouble of university life," commented Alistair O'Mahony, a third year student studying Music.
Publication date: 27 February 2019