Rewarding students at Bangor University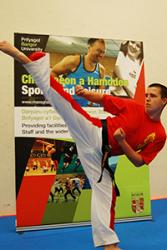 Gold medal-winning student Darryl Gallagher received a Sports Scholarship.A World Champion double Gold medal winner was among the students receiving Awards at Bangor University recently.
Darryl Gallagher from Maes Tryfan, Bangor was among over fifty (53) students from north Wales, receiving Scholarship Awards at a recent Scholarship Awards evening at the University. A Scholarship Fund of £191k was awarded and a total on 93 Scholarship awards made to new students from across the UK.
Darryl, who has just returned from the World Kickboxing Championships in Italy with two Gold Medals, received one of the University's prestigious Sports Scholarships, awarded to outstanding sportsmen and women. The Scholarships are intended to assist the students to continue training and competing in their sport at national and international levels, while they're also studying.
Darryl, who is studying Sport, Health & Physical Education at the University's School of Sport, Health & Exercise Sciences, trains regularly and receives coaching support and advice for his training regime at the University's Maes Glas Sports Centre.
As a talented and promising young local athlete, Darryl had also received Maes Glas Bursaries before coming to the University. These provided him with free access the facilities and training coaching at what is also his closest Sports Centre.
The University awards a range of Excellence and other Scholarships to students in different subjects and for different reasons. Some Scholarships are available through examination, and the standard for these was exceptionally high again this year. Other Scholarship prizes can be awarded on the strengths of the initial applications to study at the University. Scholarship Awards enable the University to ensure that the most talented and deserving students are able to study at the University.
Read more about some of our other Scholarship winners here.
Twenty-seven students received Talent Opportunities Project (TOP) Scholarships. These are awarded as a result of a promise made to pupils at local schools participating in the University's Talent Opportunities Project. Through a programme of activities and visits, the programme encourages pupils to consider higher education as an option for them. The pupils at participating schools are promised a Scholarship if they progress to study at Bangor University.
Alan Parry, Director of Corporate Communications & Marketing at Bangor University commented.
"We're glad to be able to offer such a wide range of Scholarships to these talented students who have just begun their studies at Bangor University. Our TOP Scholarships show our commitment to widening access to higher education by encouraging young people to study at University. We're really pleased to welcome 18 new students from local Schools who have participated in the TOP project along with all our new Scholarship winners."
Bangor has one of the largest and most well-established widening-access projects at any University. The University works closely with schools, pupils and parents over a three year period. It represents and important commitment to the region, in raising the aspirations of school pupils across north Wales as well as raising their awareness of higher education and what it has to offer them.
Publication date: 11 December 2013