Robotics of the future, Schools Lego-Robot competition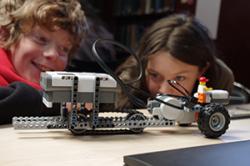 Schools across the whole of Wales will be taking part in a simultaneous "Robotics of the future" Lego challenge. Bangor University's Technocamps team are running the north Wales heat of this exciting new competition.
Ten competition kits worth £500 each have been donated to 10 local schools by Bangor University's Technocamps project. These will be used in the schools' technology clubs and in the competition.
Teams of six pupils aged between 11 and 19 from the 10 schools will attend the competition event at Venue Cymru, Llandudno on the 3rd July.
The event will be opened and compered throughout the day by TV presenter, Gareth Jones.
The pupils must pre-build a future robot that will help our environment in any way possible. The pupils will also receive a hidden challenge on the day.
This is a simultaneous national competition where the Technocamps hubs at Aberystwyth, Glamorgan and Swansea Universities will also be running their competitions with live video links and a number of web based 'hangouts' on-going throughout the day.
On the day, the schools will be judged on their designs and developments as well as given a challenge where they may have to modify their robot in some way. The regional winners of the competition will be announced live and then the overall winner will be announced on the day to the whole of Wales via the video link up.
Kim Jones, organiser of the Bangor event said: "This is such an exciting event to organise, we have so many schools participating and it's an honour to be involved in a pan-Wales event. I wish all the schools good luck in the challenge and look forward to seeing their designs on the day."
Careers Wales will also be arranging a careers fair at the same time so the teams will also have to cope with the challenge of the general public and local employers seeing their work and asking them about their designs.
Winning Teams:
1st Friars, Bangor
2nd Ysgol David Hughes, Menai Bridge
3rd Rhyl High School
Publication date: 25 June 2013