Rondo Media employs student following a placement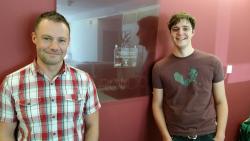 Rhys Gwynfor (right) with Rondo's Bedwyr Rees.Rondo Media, based in Cibyn on the outskirts of Caernarfon, have employed former Bangor University student Rhys Gwynfor of Bala following a placement with the company under the Access to Masters (ATM) Programme.
Rondo Media are a major UK independent multi-genre production company, producing content for a wide range of UK and international broadcasters including S4C, the BBC and Channel 4. Rondo have been working with the University on the Access to Masters programme since 2010 and have offered three Bangor University students the opportunity to work in the exciting world of Television production. Bedwyr Rees of Rondo Media said of the experience that "This type of funding is something to take advantage of, the attractive thing about projects like ATM is that we have access to bright and energetic students. Working on projects like these is about building links with the University, in such a way that we are able to offer something to the students but they are also able to offer something to us".
Rhys, who has now been employed by Rondo Media for over a year, said that "During my placement I was encouraged to go and work in the field as well as in the studio. I was able to see all the elements of the Rondo portfolio and how it works, every step in the process, which is an excellent opportunity for a student. The highlight of being involved with ATM for me was being offered a job with the company and since joining Rondo I've written three scripts that have been developed for Television, something that wouldn't have happened if it had not been for the Access to Masters Programme".
The Access to Masters Project Manager, Dr Penny Dowdney, said of the collaborations with Rondo that "It has been wonderful to see Bangor University students being able to access the exciting world of television production through the Access to Masters Programme, even better for Rhys to have been offered a job as a result of his hard work and commitment during his placement.
As a programme Access to Masters has, for many companies, been the initial contact with the University, which in some cases has led to further engagement with the variety of other business engagement projects that we offer. Over the last five years the Access to Masters Programme has supported more than 330 students to gain Masters Qualifications in Bangor University alone, working with 169 local companies."
Access to Masters (ATM) is a pan-Wales higher level skills initiative led by Swansea University on behalf of the HE sector in Wales. It is part funded by the Welsh Government's European Social Fund (ESF) convergence programme for West Wales and the Valleys.
Publication date: 9 June 2015