Routes into Languages' North Wales Spelling Bee Regional Final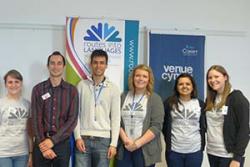 There was a buzz at the North Wales Spelling Bee Regional Final at Venue Cymru, Llandudno recently. The competition, in which contestants are asked to spell words in a range of European languages, is organised by Routes into Languages Cymru and The School of Modern Languages at Bangor University.
Modern languages pupils from 10 different schools competed in this year's North Wales Regional Final. The schools who took part were Aberconwy, Bryn Elian, Eirias, Friars, Maes Garmon, Newtown, St Brigid's, St David's, St Joseph's and Tryfan. The competitors took part in four different competitions: French; German; Spanish and Welsh as a Second Language. The competitors are those who are the spelling champions within their schools having previously competed in and won class and school competitions to gain their place in the regional final.
Ruben Chapela-Orri, North Wales Support Officer for the project, said: "Yet again this year, the standard of language and commitment shown by all competitors has been outstanding. This is a very successful competition and I am looking forward to the National Final at Aberystwyth in July. It must be noted that none of this would have been possible without the help of a team from Bangor University comprising of language students, Erasmus students, Routes into Languages Cymru Student Language Ambassadors and staff from the School of Modern Languages."
Susie Turnbull, Chief SLA at Bangor University said: "I really enjoyed helping out with the competition and it was fantastic to see so many young people enthusiastic about learning new words in different languages. It really was a great day for modern languages!"
Publication date: 25 June 2013