Safety=Design: Saving thousands of lives and millions of pounds
A project launched in collaboration with Bangor University has the potential of saving thousands of lives by simplifying the way symptoms are identified by healthcare staff and patients.
'Safety=Design', finalised in September 2015 and headed by Dr Chris Subbe, Clinical Senior Lecturer in Medical Sciences and a consultant at the Ysbyty Gwynedd, Bangor, helps signpost risks by adopting a traffic lights system to guide behaviour of carers and patients at the bedside. The aim was to develop a series of icons that condense complex information into simple visual prompts.
Acute Kidney Injury is one of the most common causes of avoidable harm suffered by people when admitted into hospital, with one out of four patients dying from the condition. This is often due to life-saving information being buried amongst bulky, insufficient records, but Dr Subbe is confident that the project will help rectify this problem. He said:
"Currently 5-10% of patients suffer from an error of judgement, and this is largely the result of clinical staff having to work through a mountain of paper work. It is vital that we work on visual information and make symptoms more obvious to people, and this is what the project is about. It is also really important to get patients and their families involved.''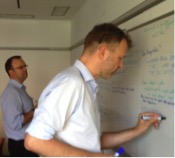 Figure 1 Dr Subbe working on the project
The project worked by bringing together clinicians, patient representatives and designers from the Royal College of Art. Four different methods were trialled across general wards at six hospital sites in London and Wales, with the Betsi Cadwaladr University Health Board, Bangor, being the lead. The methods consisted of:
'Patient diaries', which enable patients to become active partners of their own care by recording their fluid intake and urine output in relation to the risks of renal dysfunction.
The 'KidneySafe Bracelet', attachment of which improves the recording of urine output. It is given to patients identified as most at risk.
The 'WeeWheel', allowing nurses to retrieve immediate information about the minimum safe volume for urine for individual patients. It provides an 'at-risk' output per hour.
The 'SepsisPanel', a set of icons for infection and Systematic Inflammatory Response Syndrome. Being placed at the patient's bedside, the sepsis markers change from blue to red depending on the seriousness.
Safety=Design is affiliated with University College London Partners, Aneurin Bevan University Health Board, Helen Hamlyn Centre for Design, 1000 Lives Plus, and Bangor University. It is thought the project could be highly cost-effective for the NHS. For instance, the cost of Acute Kidney Injury is around £434-£620 million per year, but 20-30% of cases are thought to be at least partially preventable. This means there could be potential cost savings of up to £100 million per year.
The project is now enrolled at the Ysbyty Gwynedd, Bangor, and is also being trialled at the Glan Clwyd hospital, Rhyl, Wrexham Maelor and the Royal Gwent in Newport.
Professor John Parkinson, Head of Psychology and a Safety=Design researcher, believes the findings will have a positive impact on healthcare. He said: '' "I think Safety=Design will significantly improve how we spot symptoms and administer treatment. This cutting-edge multidisciplinary research will impact North Wales, the NHS more broadly, and hopefully the wider world."
By Mark Barrow.
Publication date: 30 March 2016