Satisfied students place Bangor University second in Wales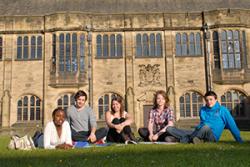 As Bangor University looks forward to confirming the places of new students for the next academic year, those students will be pleased to learn that they'll be joining some very satisfied students.
Students responding to an annual National Student Satisfaction survey have placed Bangor University joint second among Wales' higher education institutions, according to students' overall satisfaction with their course and university experience.
The results reflect well on the emphasis that Bangor University places on teaching and student care.
Bangor University has improved its results by 2% on last year's figures, with 86% of responding students said that they were overall satisfied. Almost a third of subject areas achieved levels of satisfaction of 90% and above.
Commenting on the results Professor Oliver Turnbull, Pro Vice Chancellor for Teaching & Learning said: "We place great emphasis on the quality of our teaching and student care at Bangor. During the last year we have improved systems further so that we respond more rapidly and appropriately to issues of concern to students, and have run a campaign to improve various aspects of feedback to students: examples of our determination to deliver an excellent student experience at Bangor University."
Publication date: 13 August 2013