Secretary of State visits Swequity Exchange Wales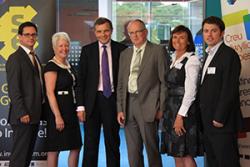 Left to right: Mark Kearns, NDRC Inventorium, Karen Padmore, David Jones, MP., Martin Owen, Caroline Thompson and Dyfan Searell. David Jones, Welsh Secretary of State visited Inventorium recently to see at first-hand how an open innovation programme has developed early – stage companies. Inventorium brings together people who would not normally meet, to share ideas and solutions that lead to the formation of new businesses, processes and collaborations. The focus is on digital technologies for culture, education, health, tourism, transport and public sector.
Inventorium's Swequity Exchange programme chose twelve of the best ideas and through a business dating network selected team members to help execute them. Over five intensive weeks teams pivoted the original ideas after talking to their customers to ensure they validated a product or service that was fit for market.
The Swequity Exchange via its lean business modelling works with industry experts, mentors and academia to deliver this exciting new programme. David Jones went on to meet two winners of the Swequity Exchange 2013. Gemma Hughes of MoodMwd advised that she may not have explored starting her new business venture if it had not been for the Swequity Exchange matching her with a technologist, consumer psychology graduate and a creative designer. Mr Jones commented "The fact that young graduates are playing a key role is testament to the innovation and talent we have in Wales."
Professor Sian Hope, Executive Director of Innovation at Bangor University said "I am delighted that the Secretary of State David Jones has been able to visit and meet the winners of the Swequity Exchange and their team members. We place great emphasis on supporting our graduates to enterprise through this high calibre programme."
David Jones was interested to learn more about the principles of open innovation and hear the development plans for Inventorium's next round of European funding. Inventorium is a joint project between CAST, Wales & NDRC, Ireland and has been part funded by Interreg 4A.
Swequity Exchange Alumni for 2012/3 can be viewed on www.swequityexchange.com
Publication date: 29 August 2013